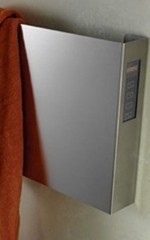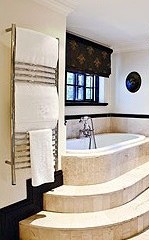 Amba Towel Warmers
You have lingered in your tub, maybe enjoyed the massage of an air bath or whirlpool. Don't let the warmth and pampering end with your bath. Wrap yourself in the luxury of heated towel.
Towel warmers, heater towel rails, not only offer visual appeal but serve as a multi-functional accessory.
Once marketed only to upscale spas and hotels, homeowners on any budget can now afford the luxury of owning one. Towel warmers are designed to warm and dry bath linens faster than air drying. It is a sustainable and more energy efficient way to reduce laundry loads with the added benefit of keeping "damp" towels from becoming mildewed and unsanitary. Moreover, in colder temperatures, most towel warmers also serve as space heaters.
Towel warmers now come in a wide range of shapes, sizes, and finishes. Most models are designed to run continuously, however, towel warmers are extremely energy efficient. Towel warmers use less electricity than several light bulbs and may add a thermostat and/or timer and accessories. All collections from Amba Towel Warmers including Jeeves, Quadro, Elory, Antus, Sirio, and Vega offer these various options.