Japanese Style Freestanding Bath
Aquatica offers a series of 4 Japanese style freestanding solid surface baths.
The Aquatica True Ofuro series is a unique, modern take on the traditional Japanese-style bathtub. They are made for seated soaking, so the design incorporates a built-in seat and a higher water depth. The interior ergonomics of these bathtubs are all directed to providing effortless comfort and support with raised neck rests.
All of these baths are constructed with a solid surface composite material, developed by Aquatica. 60% of AquateX™ is composed of the aluminum mineral that is derived from bauxite, a deeply weathered volcanic rock. By combining a high percentage of all the best properties of natural materials; and a low percentage of state-of-the-art acrylic resins; Aquatica was able to create a desirable, high performance cast stone material that is specifically, suitable for high-end bathroom applications. The solid surface is dense, non-porous, hygienic, durable and is pleasant to touch due to its velvety texture.
Turo Ofuro Tub Series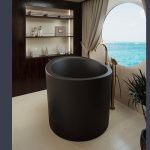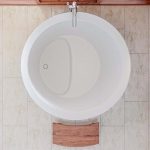 The smallest of the series is the True Ofuro Mini. This round 43″ bath is the small and tall version of 'sit and soak', solid surface Japanese bathtub. Choose an all black or all white bath, or mix the two with a white interior and black exterior. This tub is perfect to fit where no other bath will. The rim curves at the backrest for comfort & support.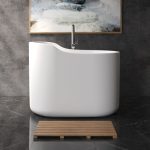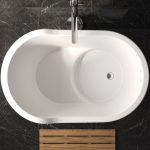 The True Ofuro Nano is a bit longer, but it stays narrow at 49″ x 31″. An oval bath offered in all black or white. The tub's oval, slender design ensures easy access through narrow passageways and doorways, making it the perfect tub for all types of buildings. The dramatic raised neck rest adds a modern flair.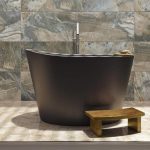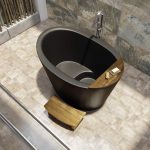 The flagship of the series, the True Ofuro is an oval 52″ x 36″ bath with a curving rim for neck support. Like the Mini, choose an all black or all white bath, or mix the two with a white interior and black exterior. This is the roomiest of the single person True Ofuro baths.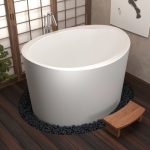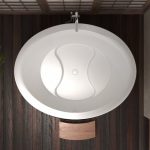 For when you want the option of two bathers, the True Ofuro Duo provides a luxury of an intimate bathing experience for couples. This 62″ x 49″ has two seats and raised back rests on both sides of the tub. Unlike the other tubs in this series, this one has a glossy finish.
Want more than a Soaking Tub?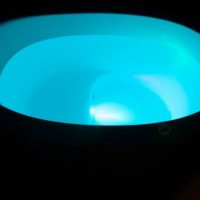 All the True Ofuro tubs have the option of Aquatica's Tranquility system. Providing a cozy soak, this system features an effective recirculation system with heating, delivering constant water temperature in 20-minute increments, for hours on end. LED lighting comes with the Tranquility system. Some of the tubs also have the option of an air system. Add Tranquility or Air, then Bluetooth Audio is also an option. Aquatica's Integrated Bluetooth Audio takes the spa experience to a whole new level, transporting you to another realm of ultimate relaxation. This state-of-the-art audio system sets the perfect mood for your therapeutic soak. Simply connect the system to your phone or computer via Bluetooth to listen to your favorite tunes from music apps.
Don't Forget the Freestanding Tub Faucet!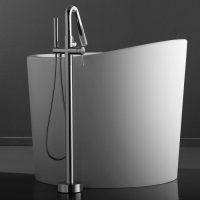 The Aquatica Colonna-135 Floor Mounted Tub Filler is a blend of stylish practicality and modern design. Tall enough for the True Ofuro tub. The floor mounted tub filler rises gracefully in a column, from the floor before gently curving at its peak. Constructed using quality solid brass, with a chrome finish, this unique Colonna-135 Faucet features an elegant handheld shower attachment that offers targeted cleaning.