Introducing the Hydro Systems Lido freestanding bathtub. Balanced. Harmonious. Pure. All the elements that make the oval one of the most revered shapes in architecture are elevated in this modern silhouette. The Lido re-envisions the oval with an expanded 1.5-inch wide deck that gently dips downward into the tub, allowing for effortless entry and relaxation while also creating a moving sculptural statement to delight the senses.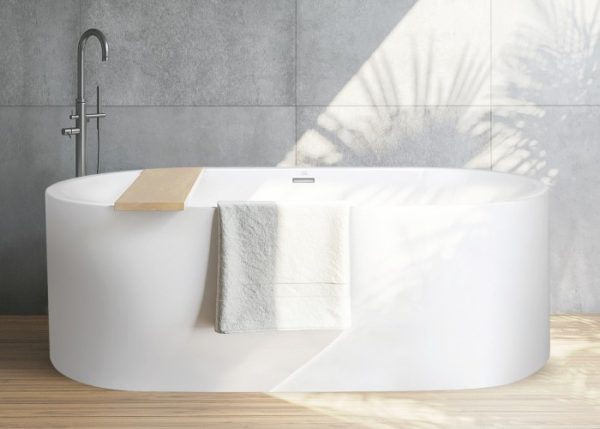 Lido 66″ x 33″ Freestanding Soaking or Air Bathtub
A mid-sized tub with a 66″ length, the Lido is narrow at 32.5″. Even with this narrow width, it offers a bathing well of 42″ x 22″ (measurement at the bottom of the tub). And the water depth of 18.75″ is very impressive, a deep bathtub. The sides of the tub on the outside are straight giving it modern styling. But on the inside, two backrests recline for comfort.
Bathtub Size: 66″ x 32.5″ x 19.75″
Bathing well: 42″ x 22″
Water Depth: 18.75″
Water Capacity: 85 Gallons
Product Weight: 450 Pounds
Backrest Slope: 31°

The Lido comes standard in White, Almond or Biscuit. You can also select a matte or glossy tub. Wanting to add more color? Hydro Systems offers the premium colors: Black, Carmine Red, Concrete Grey, Distant Blue, Grey Beige, Moss Green, Orange Brown, Pastel Violet, Purple Violet, Red Orange, Sapphire Blue, Signal Orange, Stone Grey, Tarpaulin Grey, Terra Brown
Bathtub Features:
MADE OF HYDROLUXE SS
A high-performance blend of ground natural minerals and man-made composites, that provides added durability, insulation, and protection against scratches, stains, bacteria, mold and mildew.
LINEAR INTEGRAL DRAIN INCLUDED
Standard inclusion, comes color matched to tub unless specified otherwise. Available in a wide array of color/finish choices.
ABILITY TO ADD THERMAL AIR SYSTEM
Which includes HydrOzone at no additional charge.
Wash away stress and fatigue with a Hydro Systems Thermal Air System. Thousands of tiny, heated bubbles are propelled from strategically placed, barely visible jets. The heat works to relax the body, making it more receptive to the benefits of gentle massage, activating the immune system and increasing blood flow to the muscles. The combination of heat and air movement within the water promotes deep relaxation, while providing therapeutic effects to relieve sore muscles, joint pain and inflammation.

See Hydro Systems Lido Freestanding Bathtub on Tubz.com