The MTI Cosmopolitan Collection debuted several months ago with an impressive line of freestanding baths and sinks, and the feedback has exceeded MTI's expectations. A bath collection would not be complete without a complementary shower offering, and they are proud to introduce the Cosmopolitan Collection shower bases.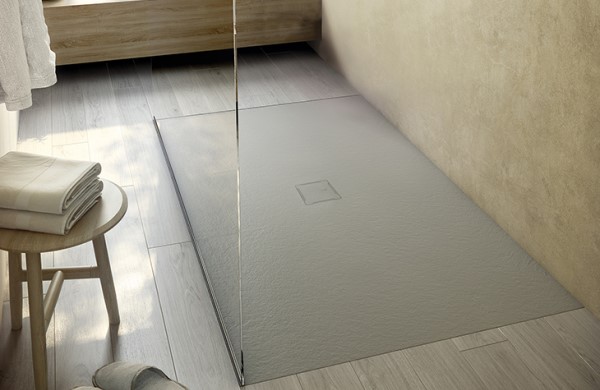 MTI Baths Cosmopolitan Collection Shower Bases
The Cosmopolitan Collection includes several attractive styles of shower bases in multiple sizes and textures produced exclusively in mineral composite. All are low-profile multiple-threshold, which means that they can be specified on order to accept glass enclosures on one, two or three sides. The low-profile design not only presents a very clean look, but it also makes entrance and exit easier. The shallow height of these base thresholds also permits them to be recessed in the floor.

Natural Stone Textures
Organic Colors | White, Sand, Gray & Black
Low-Profile or Zero-Barrier Installation
Multiple Threshold Options
Center, End and Trough Drains

The material of these bases is a high-quality mineral composite mixture of ground natural elements and high-grade binding agents, with a tough, state-of-the-art chemically-bonded coated finish specially formulated for MTI. The same type of material used on the hulls of multi-million-dollar luxury yachts. Beautiful, non-porous, durable and easily maintained.
The Shower Bases in the Cosmopolitan Collection have a sleek and clean aesthetic – perfect for a minimalistic space. The Cosmopolitan Collection is the next generation of great bathroom design, where a focus on wellness is welcome, and the goal is always to deliver exceptional quality, comfort and value.