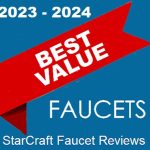 As the oldest and most respected reviewer of faucets, StarCraft Builders honors California Faucets "artisan hands, not mass-produced" philosophy.
Why Is California Faucets the Best Value in Luxury?
Per StarCraft Builders: "There are only a handful of the 250 or so faucet companies in our reviews that seem to do everything right. California Faucets is one of these. Its faucets (and showers) are well-designed and innovative, carefully manufactured using only the best components in an assembly plant that is more craft shop than factory. Its prices are considerably below the mean for luxury faucets – about 20-30% below the average. It provides a strong limited lifetime warranty against manufacturing defects and (except for living finishes) tarnishing. Its award-winning customer service is capable, responsive, and California friendly."
Read the full review
Custom Bathroom & Kitchen Faucets
California Faucets is one of the only faucet manufacturers in the world who create truly artisan product that is assembled and finished by hand right here in the United States. Unlike inflexible mass-produced faucets often made from inferior metal and plastic, each of their faucets is made from the highest quality brass and built-to-order at their factory in Huntington Beach, CA.
The Bathroom Faucet Creator is a valuable tool that underscores the immensely flexible nature of their product line. Forget having to settle for "buy it as you see it." With their artisan method of manufacturing, you can have it exactly as you wish. Any spout with any handle, in any finish. With so many options, you're virtually guaranteed to find the exact right look. So, go ahead and play with the new Virtual Faucet Creator. California Faucets hopes it delights you and makes your faucet selection process easier than ever.

California Faucet even has handle choices with their kitchen faucets, whether your tastes run modern, traditional, industrial or somewhere in-between.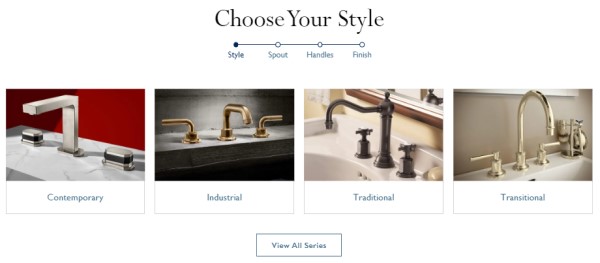 Don't feel overwhelmed by all the beautiful California Faucet options!
The Bathroom Faucet Creator is a great way to start even if you pick the handles that come with the series. We are here for you too. Tubz.com and California Faucets has been a team for 25+ years. They produce beautiful, reliable bathroom faucets, and we are here to help you choose the right ones for you home, answer questions and offer great sale prices. Drop us an email or give us a call 866-380-0303. We would be glad to help!