MTI has added 5 new tubs to their line-up. 4 freestanding and a drop-in (or under mount) models that are both beautiful and perfectly sized.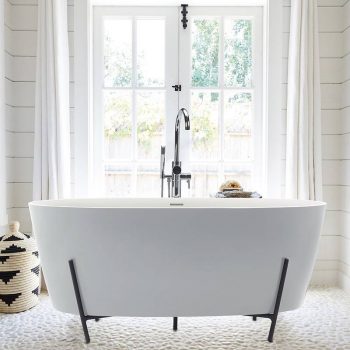 Elena with Cradle | 220C
65″ x 32″ x 27″
The Elena solid surface, freestanding bath is nestled in a hand-made steel cradle. The cradle comes standard in a powder coated black. Choose a 1/2 rolled rim (pictured) or a modern flat edge. This Elena bath features a slotted overflow, center – side drain and a delicate rim. Bathing area is 52″ x 24″ with a water depth of 16 1/2″. A stunning freestanding soaking tub with a spacious interior.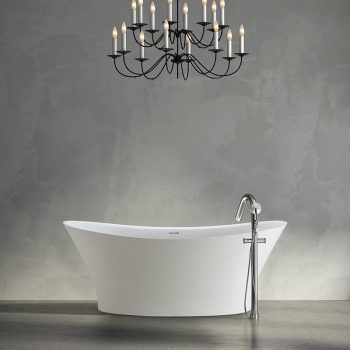 Mallory | 242
66″ x 36″ x 27″
Elegant double slipper tub that brings soft curves, gently rolled rim and minimalist lines to the bathroom. Mallory speaks romance in a matte finish solid surface bath. If a hand polished gloss finish is more to your liking, there's an option for that. Two curving backrests and a center side drain give the option of two bathers. Modern slotted overflow allows a generous water depth of 17″. Choose a soaking tub or add an air system for a soft, bubbly massage.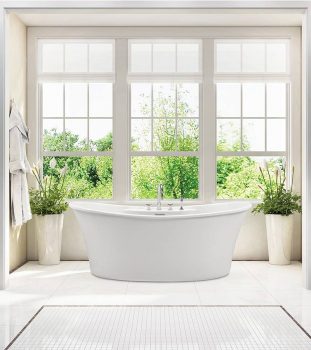 Loretta | 241
66″ x 36″ x 27″
Another graceful double slipper, the Loretta is crafted from acrylic. This is a spacious tub that features a gently rolled lip, discreet integrated slotted overflow and a fluidly designed deck. The tub is not drilled for faucets, so there is a choice of deck, wall or floor mounted faucets. Bathing area 43 1/4 x 24 1/4″ with two curving backrests and a center drain. Available as a soaking bath or with the air bubbles.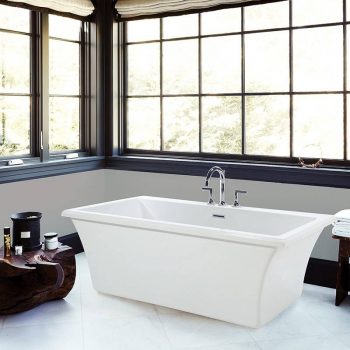 Madelyn 5 | 238
66″ x 36″ x 22″
A rectangle freestanding tub with graceful concave sides and a detailed step rim edge. The rim above the overflow is wider than the rest. This creates the perfect place for deck mounted faucets or your bathing necessities. This deep bath gives over 17″ of water depth. Two comfortable backrests and a center – side drain allow the option or two bathers. Choose an air system or soaking tub.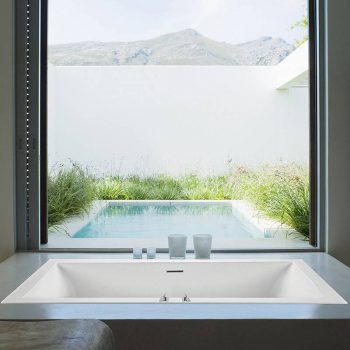 Andrea 28 | 239
66″ x 30″ x 20″
Our narrowest 66″ bath with a center – side drain. The Andrea 28 has a contemporary, minimalist design. The low profile rim option (pictured here) makes the bath sleeker. This is an undermount or drop-in tub with two comfortable backrests and a slotted overflow. Choose from any of MTI's systems: Micro Bubble, Stream Bath, Whirlpool or Air. Combine multiple systems or enjoy a soak in a tub only.