Pretty in Pink!
I love the color and light in this bathroom. I also love how Atalie wanted more than just a tub shower in this bathroom. The bath is perfectly suited for a shower but, it has more. It has the MTI Stream Bath system.

Stream Bath creates a directional, gentle current of water, just as if you were sitting in a stream. No turbulence. No bubbles. Only the touch and sound of a steady stream of slowly moving water to soothe the senses and relax the body. Stream Bath is an entirely new form of hydrotherapy, exclusively with MTI.

Atalie chose the MTI Andrea 4, a 66″ 32″ bath. She added a 3 sided tile flange and the Euro Style front skirt. This made it perfect for alcove installation. She also added the in-line heater to maintain the water temperature as she enjoys her Stream Bath.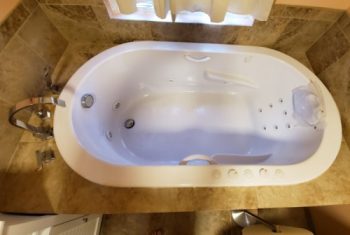 Deep Massage Tub
Anastasia's Zen Oval 6636 Platinum Series Whirlpool bath holds over 18″ of water. Anastasia also added the Deep Soaker Drain. This allows the overflow to be closed adding even more water depth. Since the controls are not designed to be underwater, Hydro Massage puts them on the rim of the tub.

This bath has a roomy 45″ x 25″ bathing well. 15 water jets provide a deep tissue massage while armrests provide added comfort. Anastasia choose the Isenberg Serie 150 Tub Faucet for a stylish tub filler. I like the earthy colors of the wall and tile. Nice job Anastasia! We are so glad you "love the tub"!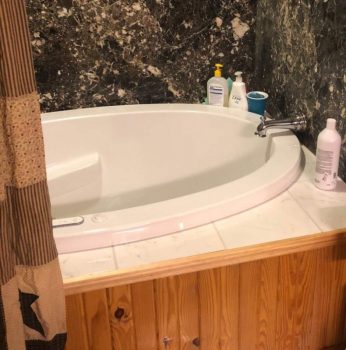 Oval Air Bath
Ann Marie also chose a Zen Oval. For the same reasons as Anastasia: comfort, water depth and a great massage.

Ann Marie choose the Gold Series Air Bath: 6642 Zen Oval. Depth to overflow is almost 18″. It has a roomy 41″ x 29″ bathing well and floating armrests for comfort. 18 EZ Clean™ Air Jets provide a bubbly soft tissue massage. Warm backrest tubing zone helps warm the bath. Ann Marie's wall mounted spout saves deck space for the essentials. The stone style walls and knotty pine give Ann the rustic – cabin feel she was looking for. Looks beautiful Ann Marie! Another great endorsement: "we love it!!!!!".