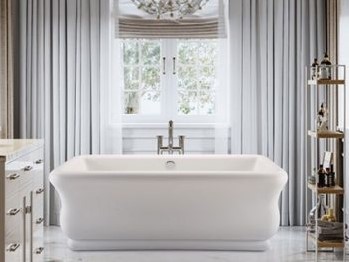 An innovative solid-surface tub & shower material exclusive to MTI.
MTI Baths is proud to introduce DoloMatte™. This is a cutting-edge true solid-surface material that is luxuriously beautiful, incredibly strong and velvety-soft to the touch. With an exquisite matte finish and inviting tactile experience. DoloMatte opens exciting new doors of design possibility.
MTI's DoloMatte™ begins as a thick, American-made solid-surface slab of specialty polymer blended with ground minerals that is consistent in color and property. After a unique preparation process, it is thermoformed with a mold. Then enhanced through additional processes, including hand finishing. While immediately notable for its exquisite matte finish and oh-so-soft surface, the appeal of this new American-made material goes much deeper. The solid-surface is durable, impact/shock-resistant, and extremely scratch- and stain- resistant. The non-porous white surface is easy to clean and is resistant to mold, mildew, and UV damage.
DoloMatte | Beautiful Freestanding Bathtubs & Shower Pans
DoloMatte can be masterfully thermoformed into over three dozen Designer freestanding tub designs ranging from traditional to transitional to contemporary. And, they are available as soaking or air baths that can also be combined with sensory therapies. See MTI Freestanding Bathtubs (Acrylic CXL™ & DoloMatte)
Additionally, DoloMatte is available on 36 low-profile shower bases for a truly upscale appearance. The understated matte finish will complement any décor and the one-piece construction will eliminate the need for grout, simplify installation and provide easy maintenance. See MTI Shower Pans (Acrylic CXL™ & DoloMatte)
MTI Quality
MTI partnered with American manufacturer Aristech Surfaces in the development of the solid-surface slab used in the creation of DoloMatte products. Aristech Surfaces is the parent company of AVONITE®, who has been a leader in solid-surface products for more than 30 years. AVONITE® is a registered trademark of Aristech Surfaces LLC.
MTI can now offer designers and homeowners alike a selection of 4 distinct materials: SculptureStone, Mineral Composite, DoloMatte and Acrylic CXL. Different materials for different looks, tastes and preferences.