Three of our customers have shared their beautiful freestanding tubs with us. These striking tubs have the benefit of massage with whirlpool (water) or combination (water & air) jets.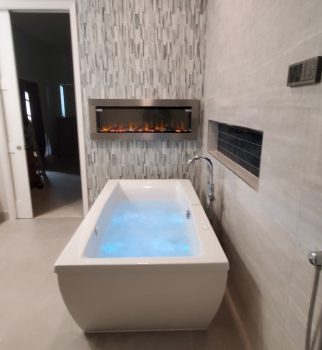 Rick chose the Neptune Saphyr, A roomy rectangle 72″ x 38″ bath with a center drain and two backrests. 6 turbo jets & 5 micro-rotating back jets provide a deep tissue massage. And the 11 mass-air injectors provide a soft and smooth massage that favors rest and relaxation. Turn on one system or the other, and some days call for both to be on!
The modern design of his freestanding whirlpool goes perfectly with his contemporary wet room design. The open shower is amazing. Dramatic lighting, cozy fire place, comfy tub…what a dreamy bathroom!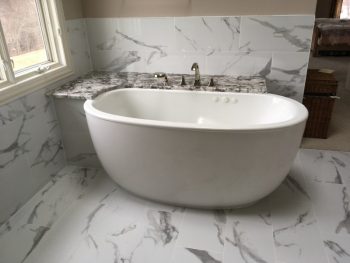 The Hydro Massage Sarah is a very popular freestanding whirlpool and Aart shows us why. This oval 66″ x 36″ bath has a center-side drain but is designed for one bather with one reclining backrest and a set of armrests for added comfort. It is a deep bath with an 18.75″ water level.
6 whirlpool jets massage the back and shoulders, 2 for the feet and the 4 side jets for a total of 12. The 3 speed motor lets you change the amount of jet pressure while the in-line heater maintains the water temperature for as long as the whirlpool is running. I love how Aart put up the shelf, framing the tub and holding the tub fillers. Looks like there would be enough room for all the essentials including a glass of wine!




Tim chose the Hydro Massage Savannah, a sleek 66″ x 36″ rectangle bath with and end drain and modern flat rim. The 12 jet whirlpool massages the back, shoulders, hips, calves & feet. And the in-line heater will maintain the water temperature for as long as he is enjoying the whirlpool massage. He can easily change the jet strength to one of three settings.
The underwater mood light adds relaxing color. And the optional linear overflow adds a modern touch and an additional inch to the water level, making it 17.5″ to overflow. I love the serenity of the colors in this bathroom and how the floor adds a beautiful pattern. A beautiful mix of modern and traditional touches.
Thank you to all of you for sharing your wonderful bathrooms!