ZeroDrain™, the latest innovation from California Faucets adds to the beauty of a bathroom sink. 

ZeroDrain sets a new sink drain standard for mid-level to luxury baths that is as easy to look at, as it is to use. A one-finger touch is all that is needed to "pop-down" the stopper into the closed position and allow water to fill the sink. The revolutionary ZeroDrain features a piston design for a perfect seal every time. Press it again to release it, and watch the water sensuously disappear into the thin circular gap around the stopper.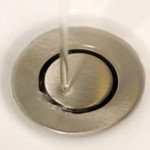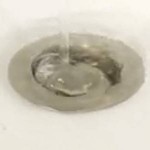 ZeroDrain has just two simple components that take the average person two minutes, or less, to install. Maintenance and cleaning are also easy. Simply pull out the stopper, rinse, and reinsert.
ZeroDrain Video
Save by ordering a ZeroDrain with your California Faucets sink faucets. See the California Faucets faucet line-up @ Tubz.com