Catherine chose the Neptune Believe 3666F soaking tub for her bathroom. And it looks fantastic with the texture and color of her bathroom.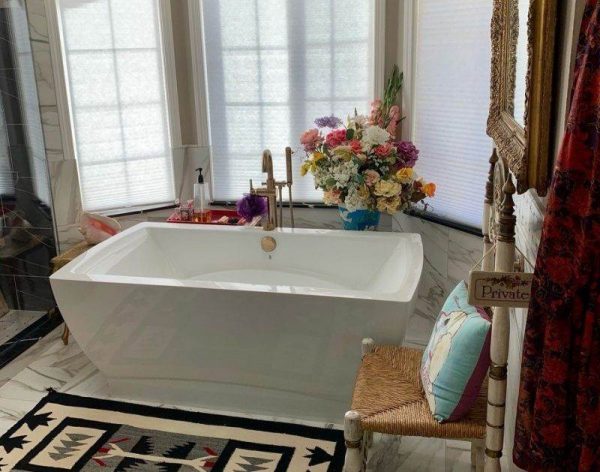 A Bathroom Designed with Texture & Punches of Color
"Both of my parents were artists of some renown. I have inherited lovely paintings full of color. I grew up in New York during the "Madmen" era and wanted classic symmetry with bold touches to showcase the paintings."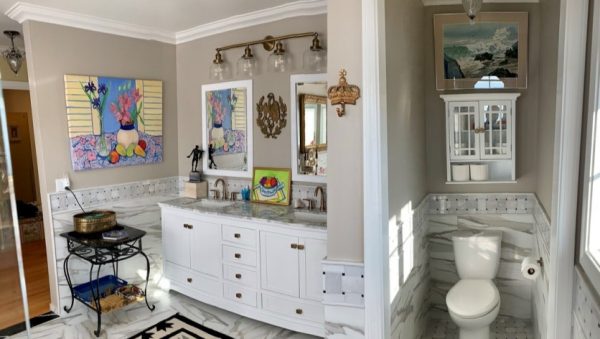 Marble tile adds texture, especially the basket weave shower floor and trim. White vanity and neutral walls add tranquility. Pops of color add life to the design and make a personal statement. There is also a mix of casual and formal elements. Note the elegant mirror and chair detail in the top picture. And the use of gold fixtures. Combine that with the more casual rug and paintings.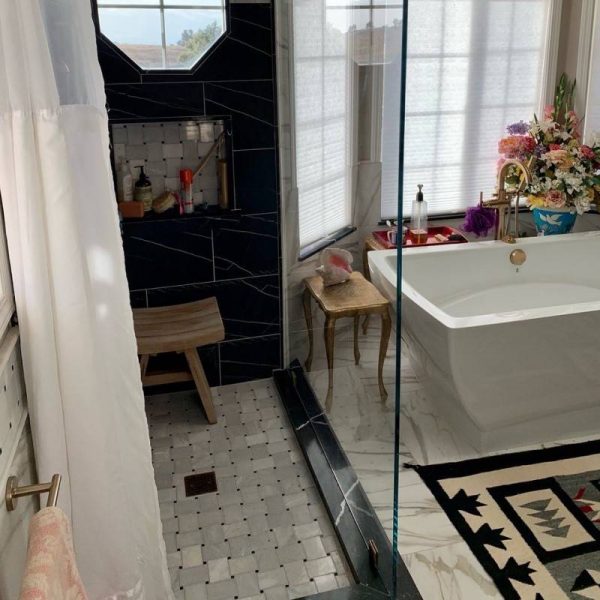 Neptune Believe 3666F
The Neptune Believe 3666F rectangular bathtub features harmonious angles and curves, with a large bathing well and built-in armrests for pure comfort. 66″ x 36″, this bath has a center drain and two reclining backrest give the option of two bathers lounging face-to-face. Catherine chose to go with a freestanding faucet. It is possible to use a deck mounted faucet. The bathing area in this bath is a roomy 42″ x 20″ and has a generous water depth of 17.5″
Catherine's new bathroom design is inspiring. It is a happy place to get prepared for the day's adventures. But I can also see my self relaxing in a nice deep bath, calming the soul. Thank you for sharing Catherine!