THE SUPERIOR SOLID SURFACE BATH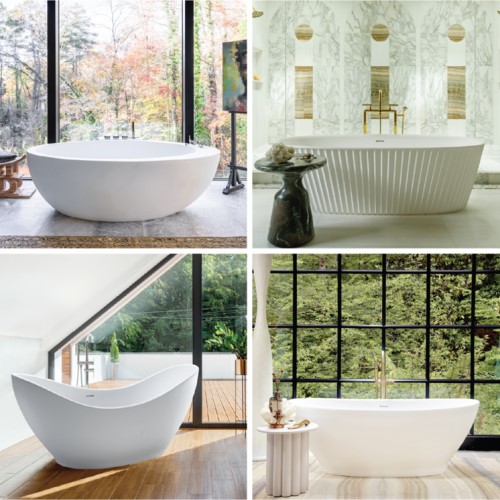 The term "solid surface" is becoming commonplace in the kitchen and bath marketplace. So much so, that the true characteristics of a solid surface material become blurred and ambiguous to consumer and trade professional alike.
As a pioneer of luxury material craftsmanship, MTI Baths first introduced the Boutique Collection SculptureStone true solid surface products to the US market in 2006, the first in the US. And MTI has remained at the forefront of manufacturing tubs, sinks and counter-sinks in its superior solid surface material.
So what makes MTI's SculptureStone superior? While MTI's Boutique Collection is known for iconic designs such as the Elise, Juliet, Cascara and Bowie freestanding baths, the intrinsic value of this artful collection is its premium SculptureStone material.
The Bath As Art®
PROPRIETARY INGREDIENTS: MTI Boutique Collection products are manufactured using the highest grade of pure mineral composite natural stone available.
INNOVATIVE MANUFACTURING: Our exquisite materials are finely ground and combined with high-performance resins that are binding agents. The material is liquefied, poured into a mold, cured and then hand-finished.
IMPECCABLE: Because of the purity of the material, when processed there are no imperfections.
HOMOGENOUS: From surface all the way through pure and solid. Unlike most premium competitor's products on the market claiming to be solid surface, SculptureStone does not require a surface coating.
HANDCRAFTED: A team of skilled MTI artisans mold and hand-finish each Boutique Collection bath product for 4 to 8 hours.
LUXURIOUS MOLDED STONE: Feel the difference. The result is a solid work of art: smooth, 100% solid, luxurious.
INCOMPARABLE PERFORMANCE:  This material is non-porous, stain-, mold- and mildew-resistant, making cleaning and maintenance easy.
The result: MTI's SculptureStone. The Superior Solid Surface. Consistently selected for the finest luxury homes, hotels and resorts due to its bespoke look, touch and feel.
See MTI Boutique SculptureStone Solid Surface Bath Video