That is what Donna's plumber told her while installing her new Isenberg faucets. Donna already knew they were beautiful, and was reassured of her purchase by her plumber's enthusiasm. She is "overly excited" with her new bathroom. She should be, check out her transformation!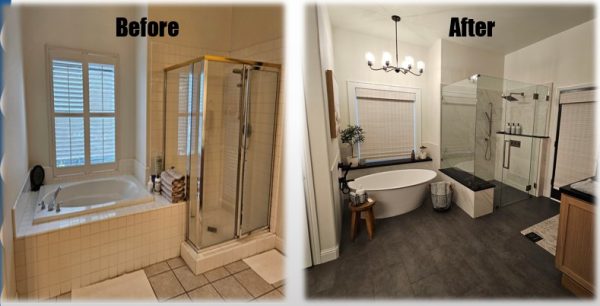 So much more open and roomy, with a nice mix of modern and traditional touches.

Donna's Isenberg faucets are a modern in design. The tub filler is in matte black, a combination of a thermostatic control with 2-way diverter, wall mounted tub faucet & hand shower set from the Isenberg Serie 160 collection. The two handle thermostatic control lets her set the temperature with one handle, and divert the flow of water from the tub filler to the hand shower with the other.

Her shower faucets are in brushed nickel and come as a complete set, also from the Isenberg Serie 160. They look so much better in the photo than the artist rendering! There is a three handle thermostatic control. One handle sets the temperature, the other two turn on the water. This allows her to have the hand shower and shower head on at the same time. The flow rate on the control is 13 GPM.

The hand shower is on a slide bar, you can remove it for use, or adjust the holder on the slide bar to use it as a second shower head. The shower head is a 10″ square rain head with a 16″ shower head arm. This Isenberg 1.75 GPM shower head provides a distinct rain like sensation for a completely soothing showering experience.


I love the tile in her shower. The large format tile, herringbone lay and black is stunning combination. Donna repeated the black on the vanity top.

Thank you for sharing Donna, nice job!