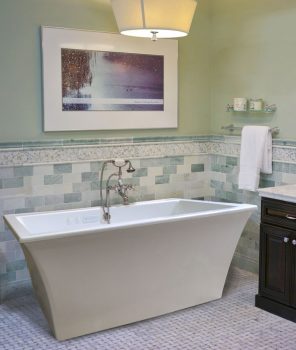 Freestanding Tubs with Jets
The curving sides and flat rim of the Reward Freestanding Bath add a modern flair. Curving armrests and lumbar support supply comfort for the bather, or bathers. A side-center drain and two slanting backrests give the option of two bathers lounging face-to-face. With 17.75″ to bottom of the overflow, this is considered a deep bath. The wide rim on one side can house deck mount faucets. A freestanding or wall mount tub filler can also be used since there are no holes drilled into the rim. That is something your installer would so if deck faucets is your choice. Perfectly sized at 66″ x 36″ the Reward won't overwhelm your bathroom but still provides a bathing area of 41.5″ x 20.5″. All this adds up to a beautiful freestanding bath.
A freestanding tub can be both beautiful and have the luxurious massage of powerful whirlpool jets!
Now let's talk brawn. The Reward whirlpool comes in 3 versions, Silver, Gold & Platinum. Pictured below is the Gold Series. With this series six pulsating jets produce a relaxing massage of water and air on the back. Two foot jets (or back jets for the second bather) and two hip jets complete the massage. A 3.25 hydropower motor supplies the power, yet a 3 speed control lets you decide the intensity.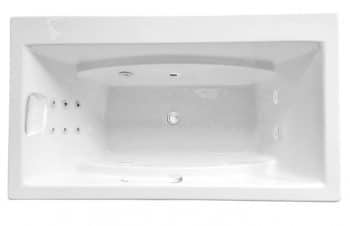 The Hydro Gold Series offers more than a deep tissue massage. An in-line heater maintains the water temperature. Mood lights create ambiance. My spiel is on a cold Wisconsin night I want to be up to my eyeballs in hot water, a martini in my hand and aqua blue water, so I can believe I was in Tahiti. I love the lights! Comfort pillow and lift and turn drain are also included.
Want more? Look to the Platinum Series that includes 17 whirlpool jets. Want less? The 7 jet Silver Series still provides a deep tissue massage. You can also choose a Soaking or Sooth Soak heated soaking tub for a simple, tranquil pleasure. An air bath for a bubbly caress. Or go to the ultimate combination: water and air jets. In fact, you can choose from 10 tub styles. That's 10 ways to the perfect freestanding tub. See them all: Reward Freestanding Bath
Why choose a Hydro Massage whirlpool?
Feel the stress evaporate as you direct and adjust the warm water pressure on your sore muscles, creating a personal massage experience to target your needs. Whether temporarily relieving pain associated with over-activity or daily stress, or helping mitigate chronic effects of certain diseases such as arthritis or diabetes, you will feel better after a hydro massage bath. Hydro Massage primarily uses a 'FDA NON-TOXIC' recipe tubing. Unlike flexible PVC or porous PVC pipe, their plumbing harness system provides one of the best drain down systems available. They accomplish this by arching our lines 3 to 5 inches above the jets and using approximately 40 percent less active plumbing than their competition.