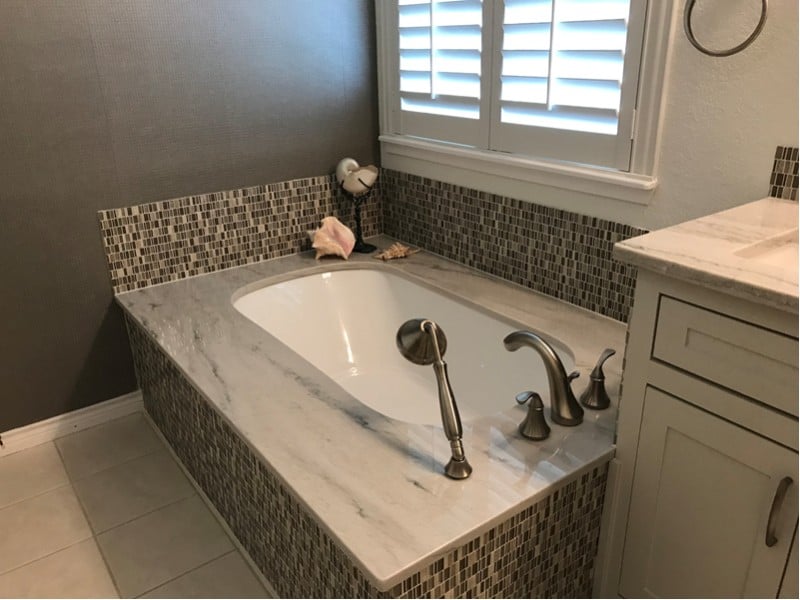 Andy created a bathroom with a timeless design. The cabinet doors, faucet selection and use of stone give this room a traditional feel. Yet the glass tile and under mount application with the tub leans towards the modern side of design. Together it is the perfect mix of textures and clean looks.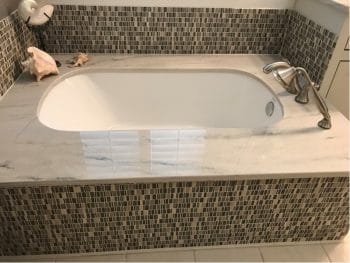 Americh Miro 5432
The Americh Miro 5432  soaking tub was chosen in white.  This petite 54″ x 30″ x 18″ tub shows off its simple oval design. Even with its small stature, this bath still allows for 33″ x 20″ at the bottom of the bathing well. The 18″ height makes it ADA compliant. To make getting in and of the tub easier, Andy planned for a wider deck to sit on. Also, a convenient place for towels and a glass of wine. The wide deck and under mount design makes the tub look much bigger than it actually is.
Thanks for sharing Andy – enjoy your new bathroom!