Brandon: A Majestic Bathtub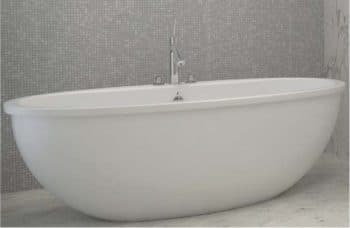 Tubz.com Describes the Brandon Bathtub as Majestic. Dictionary definition of majestic: "large and impressively beautiful". How accurate is the description?
"Large"
The Brandon is a nicely sized tub at 67″ x 37″ x 23″. The bathing area is 35″ x 22″ holding 16″ of water to bottom of overflow, 63 gallons. An overflow cover would bring it up to 18″, nice and deep. It has a wide rim on the drain side. This is perfect for deck mount faucets, or to hold your glass of wine. I do believe it is large enough for both! Yet, since there are many 72″ freestanding tubs, "large" might be an overstatement.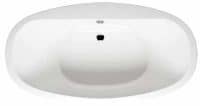 "Impressively Beautiful"
The Brando is a looker. Freestanding oval bath with nicely curving sides. The flat rim makes it more modern in design, but I would be totally comfortable putting it in my eclectic home with retro styled faucets. The simplicity of an all white tub does highlight the beauty of its shape. But it doesn't have to be white. Americh's standard colors also include: Almond, Biscuit, Black, Bone, Ice Gray & Sterling Silver. The Brandon can also be dramatic with dual color. The tub is made from two pieces (skirt and drop-in tub). Choose to have the skirt in one color and the tub in another.
If your dream soak is more about warmth, Americh Thermal Comfort System is for you. The Thermal Comfort System enhances your bathing experience with a special heating pad (18″ x 15″) built into your neck and shoulder areas while you soak! It offers two heat setting that will heat the acrylic to approximately 100 – 104°.
Do both options sound wonderful? Another beautiful thing about the Brandon tub is that it has two backrests. You can choose to have the Vibro Sonic Massage on one and the Thermal Comfort System on the other. There are more options to customize the tub including:
Pillows
Linear Overflow
Grab Bars
Chromatherapy Lighting
iBath Sound System
With its looks, function and custom options, the Brandon Freestanding Tub is impressively beautiful!