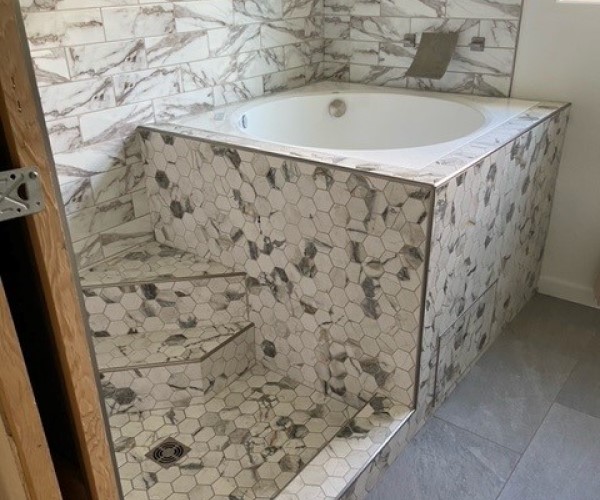 This bathroom features a Japanese style air bath and shower in a wet room style niche. Lori chose an air bath to get a soft to vigorous skin caress, depending on her mood. To combat the fact that air tubs can cool down the water quickly, she added the Hydro Fusion pump and heater This system slowly pulls water out of the tub, heats it up and then puts it back into the tub. This system maintains the water temperature for as long as the bather is in the tub. You can use it with the air system or on its own as a heated soaking tub. She also added the low profile rim. This option reduces the rim height from 1.75″ to .5″. I think by the picture, the tile further reduces that measurement. This is the Hydro Systems Fuji 4040, 40″ x 40″ Japanese style tub.
What Makes this a Japanese Style Bath?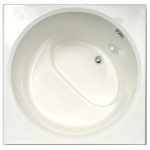 This Japanese style tub has a seat in it. You sit in the tub like you would sit in a chair. Unfortunately you can't leave hot water in it like traditional Japanese tubs, but you can enjoy the tub by a fill and empty per use. The tub is tall at 32″. Doorway (or window) measurements need to be checked before your tub is chosen.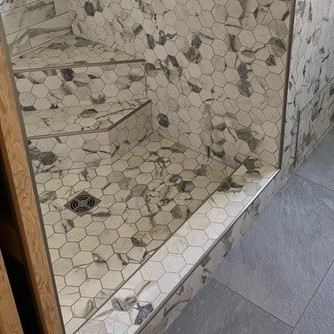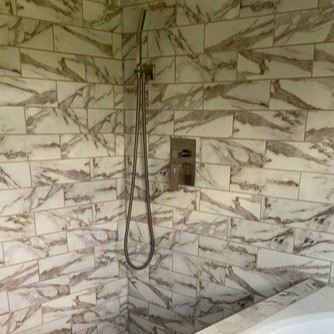 To enter and exit easily, Lori's design has steps that lead up to the tub. These steps are also part of the shower, adding a small bench for the shower. The wall shower controls are close enough to the tub that the hand shower can also be used to rinse the tub.

What an excellent job creating a luxurious wet area tub and shower in a compact space! Thank you for sharing Lori.