Derrick created a bathroom that wasn't just more up-to-date but one that used the space more efficiently.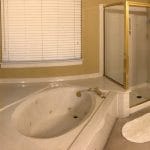 His original bathroom had a rectangle tub with an oval bathing well and end drain. It allowed for one bather and lots of counter area for a glass of wine and a bottle or two.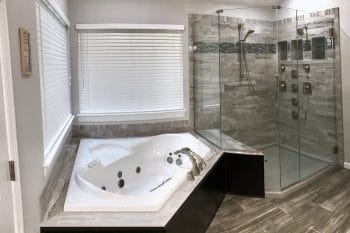 He replaced this tub with the Hydro Massage Retreat Platinum Whirlpool & Air Combo. This gave him a tub that fit into the corner space, allowed room for two bathers and what a massage! 33 air & water massage jets including 7 jet back massage jets and a 2 jet neck massage pillow.
The shower got quite an update too. It is a little wider with niches, body sprays and a hand shower added. It has a much more open feel with the frameless glass. Quite the retreat whether you are in the shower or tub.
I love how the tub deck becomes a bench for the shower and the fun angle of it. The only thing wrong with this picture is it is in his bathroom, not mine!