California Faucets Thermostatic Shower
Innovative StyleTherm® Valve Offers Spa-Like Experience While Meeting Stringent Water Conservation Codes
StyleTherm TH52D2-R accommodates three devices and is capable of running two simultaneously, making for a vast array of shower combinations! Want to combine a showerhead, handshower and tub spout? No problem! Or two showerheads and handshower? Absolutely! The ultimate in showering freedom.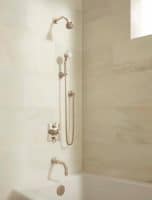 The technology behind the beauty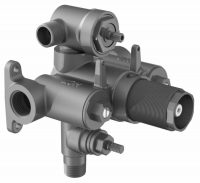 California Faucets Thermostatic Shower Control
True design isn't only how a product looks but also how it functions. The ½-inch thermostatic rough valve is made with forged brass and includes integral stops and check valves. Its quarter-turn ceramic disc volume-control cartridge is made with a thermoplastic polymer to prevent lime-scale buildup. Each non-shared outlet delivers 7.2 gpm at 60 psi. The single-volume control offers 10.5 gpm at 60 psi.
Learn more about California Faucets Shower Systems