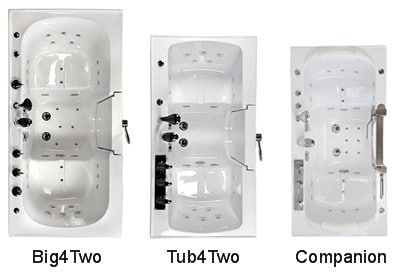 Ella's Bubbles offers 3 walk in bathtubs that have two seats so couples can enjoy a relaxing bath together. You will be hard pressed to find these types of walk in bathtubs anywhere else. All of their tubs for 2 (two seater) come with a center door and center drain to make room for the extra seating.
The Companion
30×60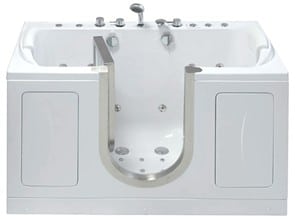 Ella's first and original two seater walk in bathtub is the Companion. This acrylic walk-in bathtub has an inward swing door. This removable stainless steel door has tempered glass, which gives it a sleek look and makes it easier to clean. The Companion comes with the Ella Brand Faucet set which includes the Thermostatic Control Valve. The TCV helps regulate water temperature and prevents scalding hot water from entering the bath. The Companion comes with the option of dual massage (air and hydro jets) or soaking (no jets).
Tub4Two
32×60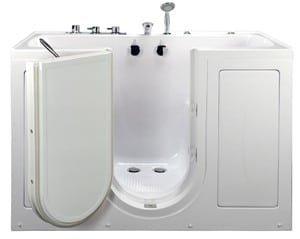 One of Ella's first high gloss acrylic outward swing tubs on the market! The outward swing door makes it easier for you and your partner to enter the tub as you won't have to maneuver around a door. The door includes three latches for more stability and increased strength against the water pressure. This tub also comes with the Ella Brand Tub Faucet set & dual drain technology for quicker drainage. Enjoy the relaxation of hydro jets.
Big4Two
36×71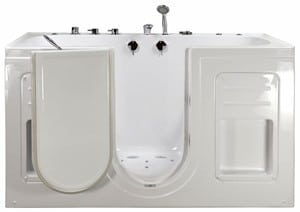 The Big4Two is an acrylic outward swing walk in bathtub and, as the name suggests, it is Ella's Bubbles biggest walk in bathtub yet. The outward swing door makes for an easier time getting in. This door also contains 3 latches to provide for stability and strength against the water pressure. The Big4Two sports the Ella Brand Faucet Set, dual drain technology and dual massage jetting (air and water jets). At 36" x 71" x 42" this walk-in bathtub offers incredibly spacious seating. If you have the space, the Big4Two could be your best option for 2 person bathing.
Stay Warm in a Ella's Walk-in Bathtub
– The pull out hand shower can be used for shower while the bathtub is filled to stay warm
– Dual Massage Systems include an in-line heater
– Add ThermoTub (a surface heating system)
– Add a heated towel warmer to your bathroom and/or a heat lamp