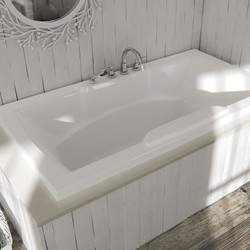 Water depth is an important attribute when selecting a tub, whether it is a soaking tub, whirlpool or air bath.
If you get me on the phone you will hear me state that I never want to have to decide if I am going to soak my shoulders or my knees, I want to be be covered with water. On a cold winter day I would be perfectly happy using a snorkel and being totally submerged!
How much water does a tub hold? It depends on the tub.