Hydro Systems Shower Pans
Acrylic Shower Bases are Available in a Variety of Shapes & Sizes
Hydro Systems' complete line of Shower Pans are available in a variety of shapes, sizes and the same fashion colors as their bathtubs. Now you have the flexibility to match any color scheme you've selected for your bathing environment.
Hydro Systems Shower Pans by Style
Square Shower Base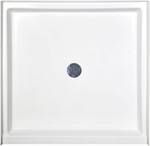 Technical Sheet
HP 3232
32" x 32"

Gel Coat HPG.3232
Retail Price $380.00

Acrylic HPA.3232
Retail Price $615.00
HP 3636
36" x 36"

Gel Coat HPG.3636
Retail Price $405.00

Acrylic HPA.3636
Retail Price $775.00
HP 4242
42" x 42"

Gel Coat HPG.4242
Retail Price $490.00

Acrylic HPA.4242
Retail Price $865.00
Corner Shower Pan

Technical Sheet
HPN 3636
36" x 36"

Gel Coat HPG.3636N
Retail Price $415.00

Acrylic HPA.3636N
Retail Price $735.00
HPN 3838
38" x 38"

Gel Coat HPG.3838N
Retail Price $430.00

Acrylic HPA.3837N
Retail Price $745.00
HPN 4242
42" x 42"

Gel Coat HPG.4242N
Retail Price $460.00

Acrylic HPA.4242N
Retail Price $835.00
Rectangle Shower Pan - Center Drain
Hydro Systems Colors
Polished Chrome Drain Included
Standard Colors:
White, Biscuit & Bone
Premium Colors:
Black, Ice Gray or Sandbar
Colors shown are for reference purposes only. Exact matches are not possible.
Hydro Systems Links
www.hydrosystem.com
Hydro Systems Tubs