Barclay Compton Pedestal Bathtub
ATDR7H70B & ATDRND70B | 70" Acrylic Double Roll Top
A double roll top design but with a flat rim, the Compton is 70" x 32" and comes in two versions. The ATDR7H70B will have a faucet recess that will be drilled for a tub filler with 7" centers. The ATDRN70B will have a continuous rolled rim and no faucet holes. Pedestal base adds old world charm and the center drain offers two comfortable backrests. The Compton is constructed with 2 acrylic sheets and the space between acrylic sheets filled with fiberglass and resin to create a bath that is as sturdy as it is beautiful. This bath isn't drilled for an overflow. If this bath isn't being installed in a wet room, it can be drilled for an overflow at no extra charge.
* We will ship our soaking tubs anywhere in the Contiguous US free of charge.
Authorized Barclay Dealer
ATDR7H70B-WH
Faucet Deck | 7" center faucet drillings
ATDRN70B-WH
Continuous Rolled Rim | No faucet holes
70" x 31 3/4" x 22"
Gallon Capacity: 57
Shipping Weight: 425 lbs.
Empty Weight: 200 lbs.
Filled Weight: 676 lbs.
Includes decorative base
Center-Side Drain Bathtub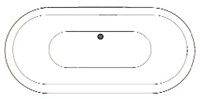 Double-walled White Acrylic

Installation Instructions
No Overflow
Recommended Tub Drain (no overflow)
#5599LT or 5599TS→
Optional overflow drilled | No Charge | ***Must Order Drain with Tub
Recommended Tub Drain (with overflow drilled)
#5599E→


Sample Exposed Drain
Compton ADR7H60B | 7" Centers in Tub Deck | No Overflow


Technical Sheet
List Price:
$3119.00
Sale Price: $1871.00
Call Now to Place Your Order! | 866-380-0303 | Free Shipping*
Compton ATDRN70B | No Faucet Hole | Flat Rim | No Overflow


Technical Sheet

List Price: $3119.00
Sale Price: $1871.00
Call Now to Place Your Order! | 866-380-0303 | Free Shipping*
Barclay Tub Faucets →
Barclay Bathtubs:
Barclay is proud of the brands and products they sell, and they stand behind them 100%. They are committed to offering the right design elements, required performance specs, competitive pricing and unsurpassed customer service. The Team at Barclay Products is committed to ensuring that every customer is completely satisfied with the products and service provided. Team members are empowered to ensure customer satisfaction.
Caring for your Acrylic Bath
The non-porous surface of an acrylic tub makes it very easy to keep clean. For routine cleaning you may use a non-abrasive soap. Dish washing detergent such as
Joy®, Palmolive®, Ivory®, etc and a soft sponge or cloth is all that you need. If an accident occurs that requires something stronger, the following are SAFE to use: Fantastic®, Tackle®, Top Job®, Formula 409®, ScrubFree®, Calgon Bath®, Windex®, Clorox Bleach®, Spiffits® Bath, Glass Plus®, and Spic & Span Powder®.
Barclay Links
•
barclayproducts.com
•
Barclay Tubs
•
Barclay Products
(All Products)
Helpful Bathtub Links
•
Bathtubs
- Features to Consider when Purchasing a Bathtub
•
How to Choose a Freestanding Bathtub
•
Freestanding Tub
- Shop Freestanding Tubs by Size or Style
•
Tubz.com
- Contact us, we are here to help