Aquatica Sincera Bathtub
Sincera 63" x 28" Back-to-wall Solid Surface Soaking Tub
The clean, modern design of this back-to-wall tub not only emphasize its timeless beauty, but also echo its sturdy Northern European workmanship. The Sincera is for one or two bathers, and has an ergonomic design that forms to support the human body. The solid matte surface of its AquateX™ material is warm and velvety to the touch. Furthermore, this tub boasts excellent heat retention and durability.
Buy Your Aquatica Sincera on Sale from Bathtub Experts!
At Tubz.com we are not just order takers in a call center. We are a small team that takes pride in our customer service and the product knowledge we have accumulated in our 20+ years of experience. Give us a call, we are here to help! We will offer you a great sale price with free shipping (48 contiguous states).
Authorized Aquatica Dealer

Bathing well: 44" x 16.25"
Water Depth: 16.25"
Water Capacity: 68 Gallons
Product Weight: 220 Pounds
Shipping Weight: 410 Pounds
Solid Surface Composite
Matte Finish

Drain Not Included (see options)
Adjustable height legs
Country of Origin: European Union
25 Year Limited Warranty
Sincera Freestanding Tub
Sincera Options →
Sale Price Not Listed? Call
866-380-0303
or Click "Send Me a Quote" for Sale Prices
SNCR-Wll-Wht
Sincera Soaking Tub
MSRP: $4495.00
*Sales Tax Charged for: CA, FL, WA & WI
Aquatica Sincera Offers:
• Striking upscale modern design
• Freestanding construction
• Made of AquateX™ composite
• Solid, one-piece construction for safety and durability
• Extra deep, full-body soak
• Ergonomic design forms to the body's shape for ultimate comfort
• Quick and easy installation
• Designed for one or two person-bathing
AquateX™
AquateX™ is a technologically advanced solid surface composite material, developed by Aquatica®. 60% of AquateX™ is composed of the aluminum mineral that is derived from bauxite, a deeply weathered volcanic rock. By combining a high percentage of all the best properties of natural materials; and a low percentage of state-of-the-art acrylic resins; we were able to create a desirable, high performance cast stone material that is specifically, suitable for high-end bathroom applications.
AquateX™ Video →
Integrated Slot Overflow
Integrated slot overflow brings sleek minimalistic design appeal, increased water depth, improved ergonomics, simpler and lower cost maintenance.
Sincera Options:
Save More! 10% off the following accessories when ordered with your bathtub
Drain
•
Euroclicker
(tap drain to open or close)
Brushed Nickel, Polished Chrome or Venetian Bronze
List Price:
$173.00
AquateX™ LuX | Gloss Finish
In addition to all the excellent characteristics of AquateX™, the AquateX™ LuX offers ultra-polished, glossy marble-like surface for even easier cleaning and maintenance. Any small signs of wear and accidental scratches can be easily removed using a common abrasive sponge, which will remove a tiny layer of the material surface, followed by surface polishing. This simple maintenance procedure will return the original gloss to the AquateX™ LuX surface.
List Price: $1000.00
NanoGuard
NanoGuard™ is a nanotechnology-based liquid polymer that is applied to our bath or basin surface and creates a ceramic-like invisible protective layer. NanoGuard™ utilizes nanotechnology and tiny particles that form a very fine, thin layer completely invisible to the eye. Because these particles are so small, when applied to a surface, they seal all the surface pores making the surface hydrophobic (water-repellent), resistant to UV, minor scratches, harsh chemicals, and anti-graffiti. NanoGuard™ is completely transparent.
More Information →
List Price:
$199.00
Freestanding Bath Installer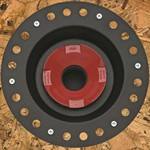 This well-rounded kit includes all the equipment required to install an Aquatica freestanding bathtub within minutes and has been specifically designed to be installed with an 8" joist space or in a concrete floor. Including 2 Brass Tailpieces (Fine Thread and Flanged), a Freestanding Bath Installer™ assembly with 1-1/2" DWV ABS tailpiece as well as a cutting template. This 18 Gauge Epoxy Coated Metal Deck Flange can also be installed with a Waterproofing Membrane.
List Price:
$199.00

Technical Sheet
Bath Headrest Comfort
Black or White Comfort Pillow
Aquatica bath headrests are hand-made in Italy of state-of-the-art polyurethane gel with "shape memory", which lets the material to respond to any deformation, returning to the initial shape. The headrests could be attached and detached to the baths repeatedly. Moreover, any dirt can be be simply washed away with soap and water.
List Price:
$179.00
Aquatica Links
www.aquaticausa.com
Aquatica Bath
(main page)
Helpful Bathtub Links
•
How to Choose a Freestanding Tub
•
Freestanding Bath
- List of all Freestanding Tubs
•
Air Tub
- Find out how Air Systems Vary
•
Tubz.com
- Contact us, we are here to help