Aquatica PureScape 118 Bathtub
PureScape 118 | 71" x 32" Freestanding Corner Soaking Tub
The Purescape 118 Corner Tub is one of Aquatica's space efficient tubs. Thanks to the convenient corner installation and apron front feature, this model allows bathroom space to be used to its maximum efficiency. The Purescape 118 was designed with an ergonomic interior and is a space-conscious bathtub available in either a left or right-hand version. This oval bathing area has a center drain with two reclining backrests. Solid, one-piece construction, featuring thick acrylic walls for unparalleled heat retention and durability. Choose soaking tub or heated soaking bathtub.
Buy Your Aquatica Pure Scape 118 on Sale from Bathtub Experts!
At Tubz.com we are not just order takers in a call center. We are a small team that takes pride in our customer service and the product knowledge we have accumulated in our 20+ years of experience. Give us a call, we are here to help! We will offer you a great sale price with free shipping (48 contiguous states).
Authorized Americh Dealer
Bathtub Size: 70.75" x 31.5" x 23.5"
Bathing well: 49.25" x 22.75"
Water Depth: 16.25"
Water Capacity: 92 Gallons
White Acrylic

Drain Not Included (see options)
Adjustable height legs
Country of Origin: European Union
Faucets pictured not included with tub - no holes will be drilled by Aquatica. Your installer will place faucets.
10 Year Limited Warranty
Aquatica PureScape 118 Bathtub Offers:
• Striking upscale design
• Freestanding construction
• Solid, one-piece construction for safety and durability
• Galvanized steel frame with adjustable feet
• Ergonomic design forms to the body's shape for ultimate comfort
• Quick and easy installation
• Drain Not Included (see options)

Constructed of Acrylic
- Solid, one-piece construction for safety and durability
- Constructed of 8mm thick 100% heavy gauge sanitary grade precision acrylic
- Premium acrylic and tub thickness provides for excellent heat retention
- High gloss white surface
- Color is consistent throughout in thickness – not painted on
- Color will not fade or lose its brilliance over time
- Non-porous surface for easy cleaning and sanitizing
Tranquility Heat System
Water heater with ozone disinfection.
Due to its high-efficiency pump, the Tranquility system is ultra-quiet. In fact, the system is so quiet that you cannot hear it working. Only flow of pleasantly warm water from the hot water outlet will indicate that the system is working as designed. When the system starts, you might notice some air bubbles and a very light swirl on the surface. The Tranquility system features a 104° F safety thermostat with shut-off function. The heater will turn itself off upon reaching 104° F maximum allowed water temperature. The Tranquility system is designed to turn itself off automatically after 20 minutes of use.

• 110V
The US/Canadian 110V heated bath system features a 1.5kW heating element with thermostat limited at 104°F. Due to general limitations of the 110V power (high AMP draw) and the subsequently a relatively weak heating element, this version is designed mainly to maintain water temperature, not to heat the water. The advantage of this solution is that it is a clean "plug & play". You can simply plug your heated tub into the existing electrical outlet without any modifications. Important – due to limited heater power, the temperature adjustment system is not functional in the 110V systems. The 110V systems are designed to maintain water temperature.
- 20A dedicated 120V GFCI protected circuit
- 1 NEMA Plug (3 prong)
- Temperature Control Non-Functional / Water Temperature Will Be Maintained
- Built in 7-color chromotherapy system

PureScape 118 Options:
Save More! 10% off the following accessories when ordered with your bathtub
Drain
•
Euroclicker
(tap drain to open or close)
Brushed Nickel, Polished Chrome or Venetian Bronze
List Price:
$173.00
Bath Headrest Comfort
Black or White Comfort Pillow
Aquatica bath headrests are hand-made in Italy of state-of-the-art polyurethane gel with "shape memory", which lets the material to respond to any deformation, returning to the initial shape. The headrests could be attached and detached to the baths repeatedly. Moreover, any dirt can be be simply washed away with soap and water.
List Price:
$179.00
Vanilla Headrest
Black or White Gel Pillow
Relax in your bathtub! These headrests have been specially designed and hand-made in Italy, with an ultramodern polyurethane gel, giving the headrest its 'shape memory'. Compatible in any square bathtub, and perfect if you're looking for head support lower than on the edge of the bath. Highly durable, resistant, and elastic, these non-toxic headrests won't require an adhesive to stick and adhere perfectly to all stone and acrylic bathtubs.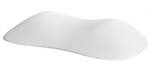 List Price:
$149.00
Onde Wood Tray
34.75" x 9.5"
A dramatic interpretation of function in cleverly designed and beautifully rendered form. The asymmetrical curves of the deep (0.75") slatted wood top echo the sinuous curves a bath. The solid wood ensures balance and excellent drainage. The wood used for this bathtub tray is 100% natural and has been treated with a teak oil to ensure waterproof impermeability and long life. Choose from Teak or Iroko
List Price:
Teak $599.00
Iroko $549.00
Onde Wood Mat
33.5" L x 19.75" W x 1.5" H
The origins of the wooden floor mat lie in hand-crafted artisanship. Aquatica has translated this into a stunning, solid wooden piece of bathroom furniture that is warm and tactile, with its own organic oil which keeps it waterproof and prevents water damage and cracking. The rich wooden tones and smooth finish of the wood add a natural earthy touch to your bathroom. Choose from Teak or Iroko
List Price:
Teak $799.00
Iroko $699.00
Aquatica Links
www.aquaticausa.com
Aquatica Bath
(main page)
Helpful Bathtub Links
•
How to Choose a Freestanding Tub
•
Freestanding Bath
- List of all Freestanding Tubs
•
Air Tub
- Find out how Air Systems Vary
•
Tubz.com
- Contact us, we are here to help