Aquatica Piccolo
Piccolo | 59" x 34" Cast Stone Freestanding Tub
The Piccolo conjures up visions of yesteryear made modern. Classic old-world claw-foot tub styling is complemented by its modern clean lines, crisp white good looks and adjustable height and stone feet with wood like varnish finish. The softly rounded shape which gently slopes up at one end for neck and back support, and the deep interior are ergonomically engineered to create maximum comfort and relaxation, all within in a footprint that at 59" will fit well in bathrooms of all sizes. The sculpted rim gives the bather a nice grip for easier entry and exit. One of Piccolo's biggest selling features is that this new bath is made from Aquatica's patented EcoMarmor™. This extremely durable material uses natural marble crumb mixed with a binding composite, bonded to the high-tech enamel surface. This ultimately delivers a bath that is lighter in weight, with superb heat-retention properties and unmatched smoothness which is also very easy to clean.

Technical Sheet
Bathtub Size: 58.75" x 33.5" x 33.25"
Bathing well: 37.5" x 15"
Water Depth: 19"
Water Capacity: 74 Gallons
Product Weight: 198 Pounds
Shipping Weight: 430 Pounds
EcoMarmor Solid Surface
High Gloss
Drain Not Included (see options)
25 Year Limited Warranty
Country of Origin: EU
Faucets pictured not included with tub
Piccolo Sale | Save on all Freestanding Tubs
Free Shipping - 48 Contiguous States
Authorized Aquatica Dealer
Sale Price Not Listed? Call
866-380-0303
or Click "Send Me a Quote" for Sale Prices
Piccolo Options →
Piccolo-Wht
Gloss White Soaking Tub
MSRP: $2950.00
Aquatica Piccolo Offers:
• EcoMarmor™ cutting edge cast stone composite
• Premium design, one of the kind freestanding bathtub
• Solid, one-piece construction for safety and durability
• Designed for comfortable one-person bathing
• Ergonomic design forms to the body's shape for ultimate comfort
• Quick and easy installation
• Built-in overflow drain and preinstalled pop up waste drain included
• Beautiful stone feet with wood like varnish finish
• 25 Year Limited Warranty
Constructed of EcoMarmor™
- Provides for unparalleled heat retention and durability
- Hypoallergenic surface
- Non-porous glossy surface for easy cleaning and sanitizing
- Color will not fade or lose its brilliance over time
- 100% recyclable and fire-resistant
This crafted material blends natural stone with highly durable resins creating a solid substrate which can be formed and shaped to truly reflect the human body (faux stone tubs). Seamless curves, soft, flowing lines and thoughtful detailing reflect Aquatica's understanding of the art of bathing.
Piccolo Options
Tub Drains
•
Retro
(fully finished exposed drain, traditional plug & chain)
Sale Price:
Polished Chrome $499.00
Brushed Nickel $599.00
Aged Brass $599.00
Save More! 10% off the following accessories when ordered with your bathtub
Vanilla Headrest
Black or White Gel Pillow
Relax in your bathtub! These headrests have been specially designed and hand-made in Italy, with an ultramodern polyurethane gel, giving the headrest its 'shape memory'. Compatible in any square bathtub, and perfect if you're looking for head support lower than on the edge of the bath. Highly durable, resistant, and elastic, these non-toxic headrests won't require an adhesive to stick and adhere perfectly to all stone and acrylic bathtubs.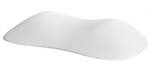 $149.00
Onde Wood Tray
34.75" x 9.5"
A dramatic interpretation of function in cleverly designed and beautifully rendered form. The asymmetrical curves of the deep (0.75") slatted wood top echo the sinuous curves a bath. The solid wood ensures balance and excellent drainage. The wood used for this bathtub tray is 100% natural and has been treated with a teak oil to ensure waterproof impermeability and long life.
Choose from Teak or Iroko
Teak $599.00
Iroko $549.00

Onde Wood Mat
33.5" L x 19.75" W x 1.5" H
The origins of the wooden floor mat lie in hand-crafted artisanship. Aquatica has translated this into a stunning, solid wooden piece of bathroom furniture that is warm and tactile, with its own organic oil which keeps it waterproof and prevents water damage and cracking. The rich wooden tones and smooth finish of the wood add a natural earthy touch to your bathroom.
Choose from Teak or Iroko
Teak $799.00
Iroko $699.00
Aquatica Links
www.aquaticausa.com
Aquatica Bath
(main page)
Helpful Bathtub Links
•
How to Choose a Freestanding Tub
•
Freestanding Bath
- List of all Freestanding Tubs
•
Air Tub
- Find out how Air Systems Vary
•
Tubz.com
- Contact us, we are here to help