Aquatica Olympian Bathtub
Olympian | 71" x 38" Freestanding Soaking Tub
The stunning free-standing Olympian from Aquatica is inspired by the classical grandeur of the Roman empire. Taking it lead from a civilization for whom bathing played a major part in culture and society, it incorporates the classic ribbed rim and majestic plinth of the Roman style bathtub in technologically advanced, high-performance solid surface stone composite AquateX™. The architectural styling and sculptured stonework quality of the bath is also reminiscent of its heritage. You and perhaps a friend, can lie back and luxuriate in its sinuous curves and be transported back in time to your very own 'Roman tub' of yesteryear. As a one-of-a-kind focus for any bathroom, Olympian delivers the mood of the Roman tub in all its glory with the modern-day benefits of the velvety smooth, hypoallergenic surface, durability and seamless easy-clean construction.

Technical Sheet
Bathtub Size: 70.75" x 37.5" x 22.75"
Bathing well: 45.25" x 18.25"
Water Depth: 13.25"
Water Capacity: 59 Gallons
Product Weight: 254 Pounds
Shipping Weight: 430 Pounds
Matte White AquateX™
Adjustable height legs
25 Year Limited Warranty
Country of Origin: European Union (EU)
Drain Included
Faucets pictured not included with tub
Olympian Sale | Save on all Freestanding Tubs
Free Shipping - 48 Contiguous States
Authorized Aquatica Dealer
Sale Price Not Listed? Call
866-380-0303
or Click "Send Me a Quote" for Sale Prices
Olympian Options →
Olympian-Wht
Soaking Tub
MSRP: $6210.00
Aquatica Olympian Offers:
• Made of AquateX™ award-winning composite
• Velvety, warm, smooth and pleasant to the touch hypoallergenic surface
• Classic romantically styled freestanding tub – one of a kind architectural masterpiece
• Designed for comfortable two-person bathing
• Preinstalled pop-up waste fitting
• 25 Year Limited Warranty
Constructed of Constructed of AquateX™
AquateX™ is a technologically advanced solid surface composite material, developed by Aquatica®. 60% of AquateX™ is composed of the aluminum mineral that is derived from bauxite, a deeply weathered volcanic rock. By combining a high percentage of all the best properties of natural materials; and a low percentage of state-of-the-art acrylic resins; we were able to create a desirable, high performance cast stone material that is specifically, suitable for high-end bathroom applications.
- Velvety, warm, smooth and pleasant to the touch hypoallergenic surface
- Galvanized steel frame with adjustable feet
- Quick and easy installation
- 25 Year Limited Warranty
- cUPC certified
Integrated Slot Overflow
Integrated slot overflow brings sleek minimalistic design appeal, increased water depth, improved ergonomics, simpler and lower cost maintenance.
One or 2 Bathers
'When in Rome', lie back and luxuriate in this history-inspired freestanding tub made for classical bathing comfort. Gently reclining walls and curved rim providing natural comfort and support for the back and neck. This bath is also large enough for comfortable two-person bathing or plenty of room for one to stretch out in full comfort.
Olympian Options
Save More! 10% off the following accessories when ordered with your bathtub
Freestanding Bath Installer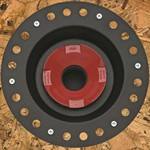 This well-rounded kit includes all the equipment required to install an Aquatica freestanding bathtub within minutes and has been specifically designed to be installed with an 8" joist space. Including 2 Brass Tailpieces (Fine Thread and Flanged), a Freestanding Bath Installer™ assembly with 1-1/2" DWV ABS tailpiece as well as a cutting template. This 18 Gauge Epoxy Coated Metal Deck Flange can also be installed with a Waterproofing Membrane.

Technical Sheet
$179.00
Vanilla Headrest
Black or White Gel Pillow
Relax in your bathtub! These headrests have been specially designed and hand-made in Italy, with an ultramodern polyurethane gel, giving the headrest its 'shape memory'. Compatible in any square bathtub, and perfect if you're looking for head support lower than on the edge of the bath. Highly durable, resistant, and elastic, these non-toxic headrests won't require an adhesive to stick and adhere perfectly to all stone and acrylic bathtubs.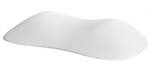 $149.00
Nordic Insulation
The Aquatica Bathtub Nordic Insulation System is a complete bathtub insulation system. Designed to insulate and air seal all the bathtub inner surfaces, including the bathtub bottom. This premiere insulation system creates an air chamber that prevents heat loss. It creates a perfectly insulated, sound-proof, monolithic solid stone interior while benefiting from some substantial weight savings.
$399.00
Tital Wood Tray
A stunning take on the traditional bathtub tray, this new bathtub tray incorporates the rich, warm tones of pure, solid, natural Iroko wood crafted in a very modern, uber chic design that exudes style. The solid wood ensures balance and excellent strength. The overall size – 36.25" x 8.25" gives you plenty of room to put all your bathing essentials right at hand. The wood used for this bathtub tray is 100% natural and has been treated with a teak oil to ensure waterproof impermeability and long life. It drains and self-dries freely. Choose from Teak or Iroko
Teak $699.00
Iroko $649.00
Aquatica Links
www.aquaticausa.com
Aquatica Bath
(main page)
Helpful Bathtub Links
•
How to Choose a Freestanding Tub
•
Freestanding Bath
- List of all Freestanding Tubs
•
Air Tub
- Find out how Air Systems Vary
•
Tubz.com
- Contact us, we are here to help