Aquatic Universal Oval - AI7242RUO Whirlpool
Aquatic Estate Series Whirlpool
The Universal Oval offers eight pressure adjustable hydrotherapy jets distributed into two massage stations. Included are two recessed Rotary Massage Jets, four Full Size Pressure-Flo Hydrotherapy Jets and two StressEaz Jets. Since both stations offer different jet configurations, the bather can choose the type of massage that suits them best. One station features the pressure adjustable Rotary Massage Jet which generates a powerful circular massage action that is adjustable for custom flexibility. The second station features the StressEaz Neck and Shoulder Therapy System II.
Authorized Aquatic Internet Dealer
Aquatic whirlpools are created especially for you by Aquatic. Fully warranted and backed with Aquatic service. Ships directly to you from Aquatic.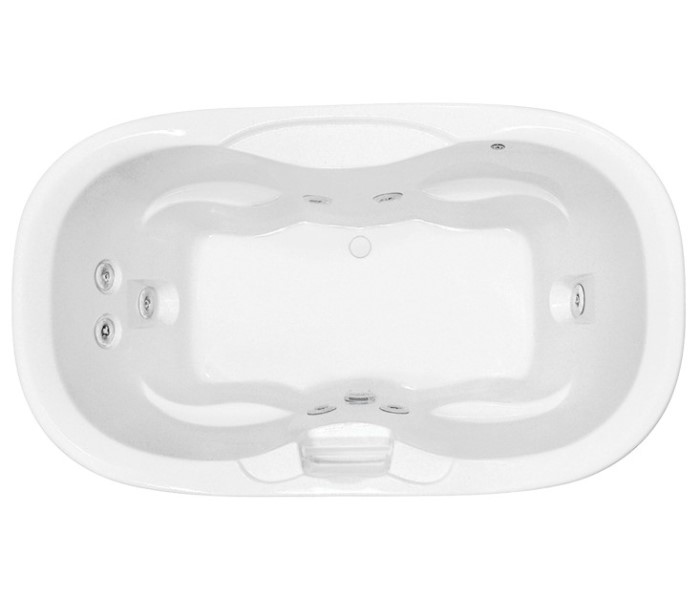 Aquatic Universal Oval
Tub Size: 70" x 41 3/4" x 26 1/4"
Number of Jets: 8
Shape: Oval



Free Shipping (Continental US)
Aquatic Sale - Save on all Whirlpool Tubs Calll (or Email) Now for Sale Prices - 866-380-0303
Aquatic Price Increase Effective June 1st - Order Now to Save More
(List Price not Sale Price Shown Below)
Universal Oval Standard Equipment
8 Hydrotherapy Jets including:
- 4 Full Size Pressure-Flo Hydrotherapy Jets
- 2 Recessed Rotary Massage Jets
- 2 StressEaz Neck & Shoulder Therapy Jets
Aquatic Quality Features:
- 1.75 HP Run-Dry Pump with 20-Minute Timer
- Bath-side On/Off Electronic Button
- "Quiet Pad" anti-vibration pump mount for quiet pump operation
- Extra Deep Bathing Well
- Clear Grab Bar
- 4 Arm Rests
- Slip Resistant Floor
- Pre-leveled ABS Support Base (Whirlpool)
- Heat-bent rigid PVC piping for optimum sanitary conditions
- Durable, easy to clean, Lucite® Cast Acrylic Surface
- Available in 5 Standard No-Charge Colors
UL & IAPMO Listed, Factory Tested
Limited Lifetime Warranty
Universal Oval Optional Equipment
Chromatherapy LED Lighting
Oval Comfort Pillow
Jet Finish
- Chrome, Polished Brass or Brushed Nickel
Grab Bar
- White, Biscuit, Chrome, Polished Brass, Gold,
Polished Nickel, Satin Nickel or Oil Rubbed Bronze
1.5 kW Inline Maintenance Heater
Cable Drive Waste and Overflow
- White, Biscuit, Bone, Chrome, Oil Rubbed Bronze, Polished Brass & Brushed Nickel
Optional Pump Location
Pre-leveled ABS Support Base (Tub Only)

Aquatic Whirlpool Links
Estate | Drift Bath | HotSoak | Infinity | LuxeAir | Millennium | Restoration | Serenity
Aquatic Whirlpools by Size
Aquatic Delicair Laundry Sinks
Aquatic Whirlpools (Main Page)
www.aquaticbath.com
Bath Tub Faucets
Top↑

Whirlpool Tub | Air Tub | Whirlpool, Air or Soaking Tub? | Walk In Tub