We had discussed the technology behind the Americh's Whisper Whirlpool (Quiet Whirlpool Tub) a few months back. Now that we have experienced it first hand, we felt the need to bring it up again.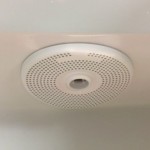 So much better seeing the actual jet than the line drawing we had.  The smaller holes surrounding the jet are the water intakes – pulling water out of the tub. You can feel a light suction if you cup your hand over the entire jet. The water is then forced back into the tub through the jet.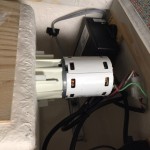 Each jet has a motor.  A pipeless whirlpool system – no piping surrounding the tub.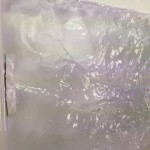 We were impressed with the power behind the jet.  And the tub was quiet.  I could hear a slight hum from the jet but considering it is a small tub sitting on a table, vibration would be expected.  The only real noise was the movement of water.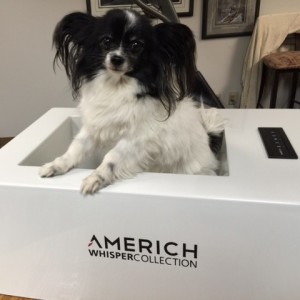 Boomer and the miniature whisper quiet whirlpool. (we couldn't help ourselves – perfect size ratios)
See the 12 Americh Whisper Whirlpool Tubs