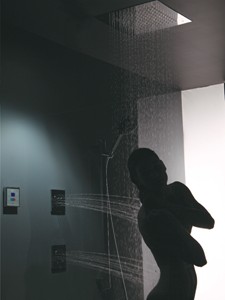 Riobel offers a wide selection of shower controls & accessories to create the perfect shower
From their pressure balance valves to the electronic iShower, the best shower awaits you. Riobel offers 8 shower systems:
– Pressure Balance
– Pressure Balance with Diverter
– Thermostatic
– Thermostatic Pressure Balance
– Coaxial
– Double Coaxial
– Duo Shower System
– iShower
Sometimes the hard issue is deciding which shower system will work the best for you. That's where Tubz.com comes in:
Riobel Showers Demystified
For this blog we are going to summarize.
We will be using the term "function" to describe a water outlet: shower head, tub spout, group of body sprays or hand shower.
Pressure Balance & Pressure Balance with a Diverter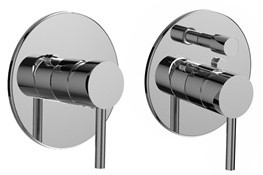 When a variation in cold water pressure occurs (e.g.: flushing a toilet); the balancing spool reduces the volume of hot water and increases the volume of cold water to maintain a constant temperature. Visa versa when the hot water pressure is reduced. The pressure balance runs 1 function. The diverter system will let you switch between 2 functions (shower or tub).
Thermostatic & Thermostatic Pressure Balance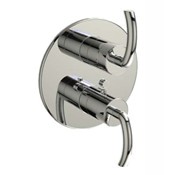 3/4″ Thermostatic valve will allow a stable temperature & allows a high water flow. The thermostatic control sets the temperature. This system also needs volume controls (stop valves) to control the water volume to each individual function (or group of body sprays). Riobel offers thermostatic controls with integrated stops. Additional stops can be added to control the water volume for more than one function.
1/2″ Thermostatic Pressure Balance combines both systems: 1) the high flow rate of a thermostatic control & 2) quick response to pressure changes of a pressure balance control. Offered with 1/2″ connection this system has an integrated volume control. Like the thermostatic system, more volume controls can be added.
Coaxial & Double Coaxial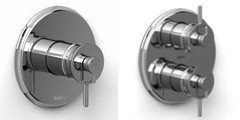 Streamline thermostatic. The small lever sets the temperature and the long handle is for volume. The Coaxial controls 1 function. The Double Coaxial controls 2 functions – both temperature & volume. So this control can operate two shower heads at two different temperatures & two different pressures.
Additional volume controls can be added to either coaxial.
iShower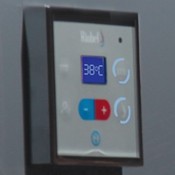 Activation at the tip of your fingers User-friendliness and simplicity! Two words: a perfect description of Riobel's iShower. You can activate one, two, three or even four components simultaneously (body spray, hand shower, shower head and optional jet). Just push the buttons and relax. More Information: Riobel iShower→
Duo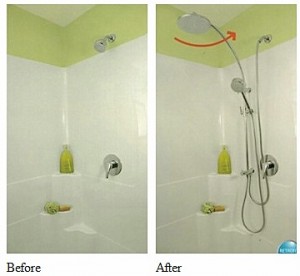 This modern shower system is best suited for renovations: it can be easily installed to an already-existing shower section. All you have to do is to connect the water outlet (shower head) to the water inlet using the hose. Easy, functional and trendy! Also available with wall supply for new construction. More Information: Riobel Duo→
See full discussion: Riobel Shower.