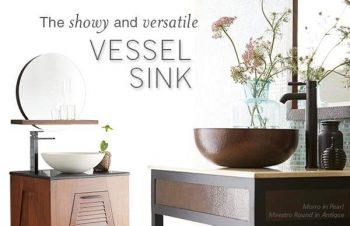 Re-posted courtesy of Native Trails
Vessel sinks have a reputation for being contemporary, but they truly couldn't be any more classic. After all, the bathroom vessel sink is a direct descendant of the earliest sink—the wash basin—which, in the days before indoor plumbing, was never without its trusty sidekick, the pitcher. Vessel sinks are showy, perfect for a powder room that's crying out for a new look. And if yours is a sink made of something extraordinary—think a brushed nickel, natural stone, or hammered copper vessel sink — there's really no better way to display this material, and to turn it into a work of art, than to opt for a vessel sink. When considering whether or not a vessel sink suits a particular space, these pros and cons are worth taking into account:
PROS:
Stylish. The vessel sink is a conversation piece that can't be beat for adding interest and high-end panache to the bathroom.
Versatile. Vessel sinks are usually bowl-shaped, but are also available in rectangular shapes—both boxy and with flared edges—as well as in swooping sculptural and nature-inspired shapes. Depending on the material used and the faucet selected, a vessel sink can skew toward primitive or modern, sleek or substantial. It can be mounted above the counter or partially recessed.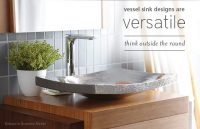 Imaginative. Some designers and homeowners repurpose vintage basins, pottery, and even galvanized buckets as vessel sinks. The bathroom vessel sink also affords the opportunity to repurpose vintage, unique, or much-loved pieces of furniture as vanities. The faucet you select also affects the final design.
Changeable. A vessel sink may be easier to swap out than an undermount sink, which is typically wedged and sealed beneath the countertop. This way if you tire of a glass vessel sink, for example, your plumber or contractor can more easily swap it out for a vessel sink made of a different material. Today there are brushed nickel vessel sinks, copper vessel sinks, concrete vessel sinks … glass, porcelain, natural stone—the options are really endless.
Comfortable. If consideration is given to the height of the person who will be using the sink, vessel sinks can prove to be more ergonomic. Most traditional bath vanities, including those we create at Native Trails, are between 32 and 34 inches tall. A vessel sink can rise from two to six inches above the countertop, potentially increasing the comfort level of users of various heights. To get the height just right for the sink's primary users, we strongly recommend hiring a professional interior designer, plumber, or contractor to help with the design and installation of a vessel sink vanity.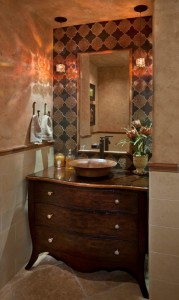 Mediterranean Powder Room by Santa Ana Interior Designers & Decorators Cindy Smetana Interiors
Easy to Install. Perhaps the easiest type of sink to install, the vessel sink doesn't require difficult countertop cut-outs. Instead, just a small hole needs to be cut to make room for the vessel sink drain.
Spacious. Many vessel sink models—especially those made of clear glass—have an airy look; almost all models free up some counter space.
CONS:
Splashing. These sinks may be more prone to splashing, but they don't have to be. It is important to have a professional assist with proper faucet selection, as the height, reach, and placement of the faucet will go a long way to minimize splashing. Also, select a faucet equipped with an aerator, which will naturally create a non-splashing stream of water.
Cleaning. A vessel sink may require extra cleaning and maintenance as it has two visible sides. This is especially the case with glass vessel sinks, which can show water spots. To clean between the base of the sink and the countertop, homeowners and housekeepers quickly learn the simple "cleaning rag wedge" trick or use a long, thin brush to access this area.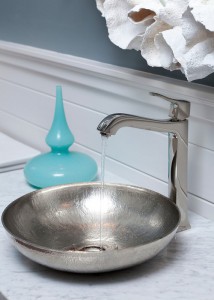 Beach Style Bathroom by Pensacola Interior Designers & Decorators In Detail Interiors
Price. Many people believe that vessel sinks are more expensive than undermount sinks since they communicate high style, but as the vessel sink has become more mainstream its price range has grown significantly.
Stability. When improperly installed, taller vessel sinks may present stability issues and so they may not work well with young children, who could be tempted to grab on to the sides of a vessel sink to pull themselves up. If you have your vessel sink installed by a trustworthy plumber or contractor, this will be a non-issue. Likewise, a partially recessed installation can bolster a sink's stability.
Durability. Some vessel sink models may be more prone to chipping or damage, as the edge is exposed. This is not of concern with the hardier materials used in nickel and copper vessel sinks.
See our selection of  Native Trails Vessel Sinks