The Neptune Nagano is one of our more popular Japanese Style Whirlpools.  Neptune has a very nice picture of this tub dropped into the floor. Unfortunately a lot of our customers can not install the tub in this manner.
That's why I was so excited to get these pictures from Linda.
Linda (& her team) created the perfect surround for her Nagano Whirlpool. Steps allow the bather to sit on the landing and slide into the tub.  The undermount installation allows ease in transferring into the tub.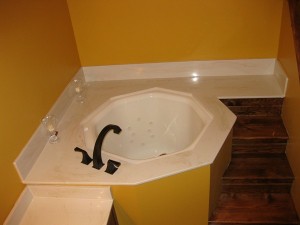 Beautiful bathroom Linda ~ Thanks for the pictures