Neptune Revelation Tub
Revelation 3666, 4266, 3672 & 4272
Elegant oval bathtub with center drain, raised backs and a style that would be at home in a traditional or retro bathroom. Raised backrests and flowing armrests add comfort. Center drain and two reclining backrest give the option of two bathers. Choose from a soaking, whirlpool, air or combination tub.
Neptune Sale | Save on all Soaking, Whirlpool or Air Tubs
Free Shipping - Contiguous US
Authorized Neptune Dealer
Choose Revelation Drop-in or Freestanding
Revelation Drop-in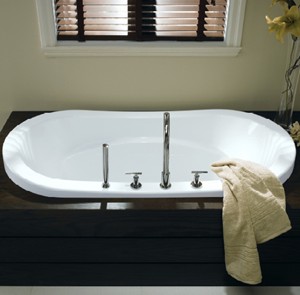 Whirlpool, Air Tub or Soaking Bathtub
Faucets not included with tub - no holes will be drilled by Neptune. Your installer can place faucets.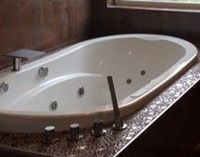 See Revelation Drop-in Installed (customer remodel) →
Choose Revelation Drop-in Size:
Revelation Options
• Model Specific Options
Handle (1 Centered Opposite Overflow) | White, Bone, Biscuit or Chrome
Rayola | Shell Heating Systems
• All Neptune Options and Features →


Neptune Links
www.produitsneptune.com

Neptune Tubs (Main Page)

Produits Neptune Warranty

Helpful Bathtub Links

• Choosing a Bathtub - Features to Consider when Purchasing a Bathtub

• Spa Tubs - Bring the Spa Treatment Home | Which System is Best?

• Air Tub - Find out how Air Systems Vary

• Whirlpool Tubs - Explore Whirlpool Tub Features

• Tubz.com - Contact us, we are here to help