Kitchen Sink
Tubz.com has a large selection of quality, brand named kitchen sinks that will make a statement. Shipped direct from the manufacturer, these sinks carry full warranties and are perfect for a kitchen remodel. Stainless Steel, Copper, Fire Clay & Stone Kitchen Sinks.


With Tubz.com discount sink prices you can remodel your kitchen with style but without breaking the budget. We will be glad to help you with you kitchen sink selection 866-380-0303
Farmer, Undermount, Drop-in & Apron Kitchen Sinks
Choose the kitchen sink that will fit your style:
• Clean, distinctive lines of a undermounted sink
• Star quality of a apron sink, whether it be china, metal or stone
• Traditional beauty of fire clay or modern gleam of a brushed nickel copper sink
Kitchen & Prep Sinks by Style
Use the links below to find your sink style, click on the link for more information
In Search of the Perfect Kitchen Sink?
Not sure which style fits your kitchen? These definitions may give some insight:

Drop-in or Self-rimming Sink


These sinks have a rim or lip around the outer edge of the sink. Easy to install, they are dropped into a hole in the counter. Faucets are to be installed directly on the counter or from the wall.

Undermount

This sink is mounted under the counter. Only the inside is seen. Look for two measurements: interior will be what is seen, exterior will be the amount of room needed under the counter. Faucets for an undermount will be installed on the counter or from the wall.

Apron - Farmer Sink

This is also an undermount sink but it has a front apron that protrudes from the counter front.
Kitchen Sink Manufacturers

Barclay
Farm, Drop-in & Undermount
Stone, Stainless Steel &
Fire Clay
Bar & Prep Sinks

Barclay
Copper, Pewter &
Stainless Steel
Choose the Perfect Faucet to Compliment Your Kitchen Sink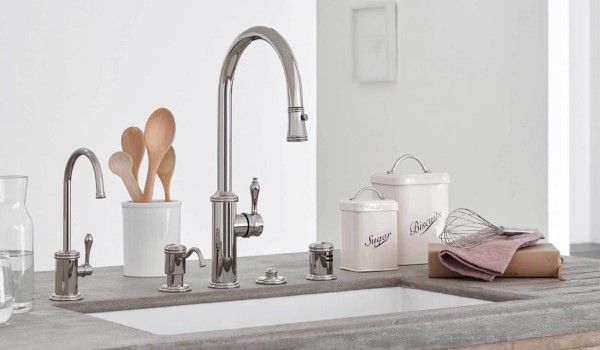 Kitchen Faucets →