Aquatica True Ofuro Mini Bathtub
True Ofuro Mini Japanese Style Freestanding Soaking Tub
Aquatica's True Ofuro Mini Japanese soaking tub has been inspired by the ancient Japanese bathing traditions and its design heavily influenced by the traditional Ofuro soaking bathtubs. Following the launch of our True Ofuro bathtub, many of our customers kept requested an even smaller version of Japanese tub that would be practical and useful in applications where no other bathtub would fit. This, in a nutshell, is how this small and tall version of 'sit and soak', solid surface Japanese bathtub was conceived. The Ofuro Mini Japanese bathtub is intended to fit in spaces where no other bathtub would ever fit.
43" Solid Surface Bathtub
This tradition-inspired tub combines the best features of bathing ergonomics. Designed for you to sit and soak up to your neck, it combines a raised seat at the base of the bath adjoining the gently angled backrest and sculpted neck rest, for ultimate in comfort and support. Crafted in Italy, this immaculately sculpted tub is created from a technologically advanced solid surface composite material
Aquatica True Ofuro Mini Sale
Save on all Freestanding Soaking Tubs

Technical Sheet
Bathtub Size: 43.25" x 43" x 37.25"
Water Depth: 26"
Water Capacity: 74 Gallons
Product Weight: 209 Pounds
Shipping Weight: 408 Pounds
Matte White Finish

Built-in overflow with Pop-up drain
Adjustable height legs
25 Year Limited Warranty
Country of Origin: Italy
Faucets pictured not included with tub


Installation Instructions
Sale Price Not Listed? Contact Us 866-380-0303 or (email) for Sale Prices
Aquatica True Ofuro Offers:
• Striking upscale design
• Freestanding construction
• Solid, one-piece construction for safety and durability
• Ergonomic design forms to the body's shape for ultimate comfort
• Quick and easy installation
• Concealed overflow

Made for Seated Soaking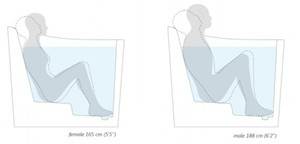 Without a doubt, the key feature of our Japanese Bathtubs is the built seat and ergonomically shaped backrest – designed for relaxing full body immersion. The True Ofuro Mini is the only fully functional and useful 43" bathtub even for people that are 6ft or taller.

Constructed of AquateX™
AquateX™ is a technologically advanced solid surface composite material, developed by Aquatica®. 60% of AquateX™ is composed of the aluminum mineral that is derived from bauxite, a deeply weathered volcanic rock. By combining a high percentage of all the best properties of natural materials; and a low percentage of state-of-the-art acrylic resins; we were able to create a desirable, high performance cast stone material that is specifically, suitable for high-end bathroom applications.
- Velvety, warm, smooth and pleasant to the touch hypoallergenic surface
- Galvanized steel frame with adjustable feet
- Quick and easy installation
- Preinstalled pop-up waste fitting
- 25 Year Limited Warranty
- cUPC certified

Ergonomical headrest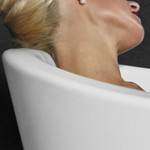 The True Ofuro Japanese style bathtub features an ergonomic built-headrest for comfortable and relaxing bathing experience.

Slot Overflow


Integrated slot overflow brings sleek minimalistic design appeal, increased water depth, improved ergonomics, simpler and lower cost maintenance.

True Ofuro Options
Waterproof Teak Step


Designed and crafted using a high-quality teak wood, which contains a natural and organic oil making it naturally waterproof. This will aid in the step-in stool not becoming brittle, bent, swollen or cracked from water damage.
List Price: $868.00
Sale Price: $599.00

Drain Trim


Oil Rubbed Bronze, Venetian Bronze or Brushed Nickel
(Chrome No Charge Standard)
List Price: $250.00
Sale Price: $173.00

Vanilla Headrest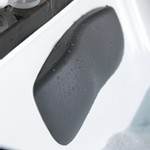 Black or White Gel Pillow
List Price: $181.00
Sale Price: $125.00

Relax in your bathtub! These headrests have been specially designed and hand-made in Italy, with an ultramodern polyurethane gel, giving the headrest its 'shape memory'. Compatible in any square bathtub, and perfect if you're looking for head support lower than on the edge of the bath. Highly durable, resistant, and elastic, these non-toxic headrests won't require an adhesive to stick and adhere perfectly to all stone and acrylic bathtubs.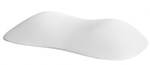 Freestanding Bath Installer


List Price: $288.00
Sale Price: $199.00

This well-rounded kit includes all the equipment required to install an Aquatica freestanding bathtub within minutes and has been specifically designed to be installed with an 8" joist space.
Including 2 Brass Tailpieces (Fine Thread and Flanged), a Freestanding Bath Installer™ assembly with 1-1/2" DWV ABS tailpiece as well as a cutting template. This 18 Gauge Epoxy Coated Metal Deck Flange can also be installed with a Waterproofing Membrane.


Technical Sheet
Aquatica Bath Link
www.aquaticausa.com

Helpful Bathtub Links

• Choosing a Bathtub - Features to Consider when Purchasing a Bathtub

• Freestanding Tub: Our Entire Selection of Freestanding Bathtubs

• Tubz.com - Contact us, we are here to help