Aquatica Organic Bathtub
Organic 91 x 53 Cast Stone Freestanding Soaking Tub
Organic's unique shape drew its inspiration from the forms of natural rock pools and is available in white. This freestanding bath features ThermoMate foam layer on its underside for increased heat retention, sound insulation and mechanical resistance. The Organic is an European Design Award winning bathtub. It is constructed using Aquatica's EcoMarmor™ Lite composite, which is a combination of heavy gauge, sanitary grade precision acrylic and stone composite. This gives it a unique combination of durability and refined style.
Aquatica Organic Sale
Save on all Freestanding Soaking Tubs
Free Shipping - Contiguous US
Authorized Aquatica Dealer

Technical Sheet
Bathtub Size: 91.25" x 53.25" x 28.75"
Bathing well: 49.25" x 22"
Water Depth: 14.25"
Water Capacity: 62 Gallons
Product Weight: 260 Pounds
Shipping Weight: 452 Pounds
White High Gloss Finish

Preinstalled chrome pop-up waste fitting
Country of Origin: European Union (EU)
Faucets pictured not included with tub


Installation Instructions
Sale Price Not Listed? Contact Us 866-380-0303 or (email) for Sale Prices
Aquatica Organic Offers:
• Offered in White
• Striking upscale modern design
• Freestanding construction
• Solid, one-piece construction for safety and durability
• Extra deep, full-body soak
• Ergonomic design forms to the body's shape for ultimate comfort
• Quick and easy installation

Constructed of EcoMarmor™
Made of natural marble crumbs and a binding composite material. The bath surface is molecularly bonded to high-tech enamel surface during the manufacturing process, using a unique vacuum casting process to create unmatched surface smoothness and density by eliminating any air particles or other foreign objects in the manufacturing process.

- Provides for excellent heat retention and durability
- Velvety texture which is warm and pleasant to the touch
- Hypoallergenic white surface
- Color is consistent throughout in thickness – not painted on
- Color will not fade or lose its brilliance over time
- Non-porous surface for easy cleaning and sanitizing

Organic Bathtub Options
Vanilla Headrest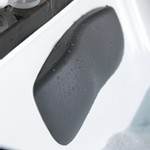 Black or White Gel Pillow
List Price: $181.00
Sale Price: $125.00

Relax in your bathtub! These headrests have been specially designed and hand-made in Italy, with an ultramodern polyurethane gel, giving the headrest its 'shape memory'. Compatible in any square bathtub, and perfect if you're looking for head support lower than on the edge of the bath. Highly durable, resistant, and elastic, these non-toxic headrests won't require an adhesive to stick and adhere perfectly to all stone and acrylic bathtubs.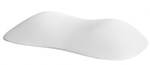 Freestanding Bath Installer


List Price: $288.00
Sale Price: $199.00

This well-rounded kit includes all the equipment required to install an Aquatica freestanding bathtub within minutes and has been specifically designed to be installed with an 8" joist space.
Including 2 Brass Tailpieces (Fine Thread and Flanged), a Freestanding Bath Installer™ assembly with 1-1/2" DWV ABS tailpiece as well as a cutting template. This 18 Gauge Epoxy Coated Metal Deck Flange can also be installed with a Waterproofing Membrane.


Technical Sheet
Aquatica Links
www.aquaticausa.com

Aquatica Bath (main page)

Helpful Bathtub Links

• How to Choose a Freestanding Tub

• Air Tub - Find out how Air Systems Vary

• Tubz.com - Contact us, we are here to help