Americh Oceane Tub
Oceane Freestanding Whirlpool, Air & Soaking Bathtub
Oceane offers a fun, round bathtub. Sculpted from acrylic, this bathtub allows you to sit wherever. The deepest recline is opposite the drain. The Oceane is a freestanding bath. Choose a Soaking Tub, Heated Soaker, Air (2 styles), Whirlpool (3 Styles) or Combo Whirlpool-Air (4 Styles) bathtub. Acrylic construction provides a non-porous surface for easy cleaning and sanitizing. Acrylic will never fade or lose its brilliance over time.
Americh Oceane Sale
Save on all Soaking, Whirlpool or Air Tubs
Free Shipping - Contiguous US
Authorized Americh Dealer

Technical Sheet
Tub Size: 69" x 69" x 21"
Gallons to Overflow: 90
Gallons to Operate: 70 (Whirlpool)
Depth to Overflow: 12 7/8"
Back Slant: 126°

Bathtub Material: Acrylic
Tub Floor: Textured
Standard Americh Colors: Biscuit, Black, Bone, Ice Gray, Sterling Silver, White
Installation: Drop-in or Undermount (Please specify if undermount at time of order)
Center Drain - 2 Person Bath
Installation: Freestanding 1 Piece Construction
(motor access panel is located on the side of the tub)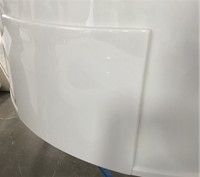 Installation Instructions
Sale Price Not Listed? Contact Us 866-380-0303 or (email) for Sale Prices
Oceane Soaking Bathtub
Tub only (no jets) or heated soaker bathtub that maintains water temperature.
Oceane Soaking Bath
OC6921T

List Price: $6450.00


MSRP: $4837.50




Sale Price: Contact Us

Heated Soaking Bath
OC6921T + Serenity

List Price: $7125.00


MSRP: $5343.75




Sale Price: Contact Us



Soaking Tub with Serenity Pump/Heater
Oceane Whirlpool (Water Jets)
Water jets provide a deep tissue massage
Whirlpool Features and Options →


Builder Whirlpool
OC6921B

List Price: $7250.00


MSRP: $5437.50




Sale Price: Contact Us



6 Jets
Color Match Trim
1-HP Pump
Air Switch with Timer
Pre-mounted Pump
Pre-leveled Bathtub
20-Year Limited Warranty

Electrical: 20AMP GFCI

Luxury Whirlpool
OC6921L

List Price: $7850.00


MSRP: $5887.50




Sale Price: Contact Us



8 Jets
Color Match Trim
1-HP Pump
Americh Control Pad
Low Water Level Sensor
Pre-mounted Pump
Pre-leveled Bathtub
20-Year Limited Warranty

Electrical: 20AMP GFCI

Platinum Series Whirlpool
OC6921P

List Price: $10450.00


MSRP: $7837.50




Sale Price: Contact Us



8 Jets
Metallic or Color Match Trim
1-HP Syllent Pump with Heated Air
Americh Control Pad
Low Water Level Sensor
Pillow - Angle
Grab Bars - 14"
Chromatherapy
Rotary Massage Jets
High Density Insulation
Pre-mounted Pump
Pre-leveled Bathtub
20-Year Limited Warranty

Electrical: 20AMP GFCI

Oceane Air Tub
Air jets provide a soft, bubbly massage
Air Features and Options →
Sale Price Not Listed? Contact Us 866-380-0303 or (email) for Sale Prices
Air Bath System II
OC6921TA-2
Perimeter-placed air jets

List Price: $8250.00


MSRP: $6187.50




Sale Price: Contact Us



Individual Air jets
Heated back
Variable Speed Blower
Heated Air System
Americh Control Pad
Pulse/Wave Feature
Water Detection Sensor
Automatic Drying Cycle
Pre-mounted Blower and Controls
Pre-leveled Bathtub
20-Year Limited Warranty

Electrical: 20AMP GFCI

Air Bath System III
OC6921TA-3
Floor-placed air jets

List Price: $8250.00


MSRP: $6187.50




Sale Price: Contact Us



Individual Air jets with Built-in Check Valve
Variable Speed Blower
Heated Air System
Americh Control Pad
Pulse/Wave Feature
Water Detection Sensor
Automatic Drying Cycle
Pre-mounted Blower and Controls
Pre-leveled Bathtub
20-Year Limited Warranty

Electrical: 20AMP GFCI

Note:
Air Bath III Systems may add 1 1/2" - 2 1/2"
to the Height of the Tub
Oceane Whirlpool - Air Combination
Two systems, water and air jets. Choose one or run both massage systems at the same time.
Combo Features and Options →
Sale Price Not Listed? Contact Us 866-380-0303 or (email) for Sale Prices
Combo Builder Series
Whirlpool & Air Bath II
OC6921TBA-2

List Price: $9050.00


MSRP: $6787.50




Sale Price: Contact Us



*Specify Drop-in or Undermount
(Affects Whirlpool Control)

Pre-mounted Pump & Blower
Americh Control Pad
Air Switch with Timer
Pre-leveled Bathtub
20-Year Limited Warranty
Whirlpool Features:
Color Match Trim
1-HP Pump
Air Features:
Individual Air jets
Heated back
Variable Speed Blower
Heated Air System
Pulse/Wave Feature
Water Detection Sensor
Automatic Drying Cycle

Electrical: 2 - 20AMP GFCI

Pump & Blower Location
Combo Builder Series
Whirlpool & Air Bath III
OC6921TBA-3

List Price: $9050.00


MSRP: $6787.50




Sale Price: Contact Us



*Specify Drop-in or Undermount
(Affects Whirlpool Control)

Pre-mounted Pump & Blower
Americh Control Pad
Air Switch with Timer
Pre-leveled Bathtub
20-Year Limited Warranty
Whirlpool Features:
Color Match Trim
1-HP Pump
Air Features:
Individual Air jets with Built-in Check Valve
Variable Speed Blower
Heated Air System
Pulse/Wave Feature
Water Detection Sensor
Automatic Drying Cycle

Electrical: 2 - 20AMP GFCI

Pump & Blower Location
Combo Luxury Series
Whirlpool & Air Bath II
OC6921TLA-2

List Price: $9650.00


MSRP: $7237.50




Sale Price: Contact Us



Pre-mounted Pump & Blower
Americh Control Pad
Pre-leveled Bathtub
20-Year Limited Warranty
Whirlpool Features:
Color Match Trim
1-HP Pump
Low Water Level Sensor
Air Features:
Individual Air jets
Heated back
Variable Speed Blower
Heated Air System
Pulse/Wave Feature
Water Detection Sensor
Automatic Drying Cycle

Electrical: 2 - 20AMP GFCI

Pump & Blower Location
Combo Luxury Series
Whirlpool & Air Bath III
OC6921TLA-3

List Price: $9650.00


MSRP: $7237.50




Sale Price: Contact Us



Pre-mounted Pump & Blower
Americh Control Pad
Pre-leveled Bathtub
20-Year Limited Warranty
Whirlpool Features:
Color Match Trim
1-HP Pump
Low Water Level Sensor
Air Features:
Individual Air jets with Built-in Check Valve
Variable Speed Blower
Heated Air System
Pulse/Wave Feature
Water Detection Sensor
Automatic Drying Cycle

Electrical: 2 - 20AMP GFCI

Pump & Blower Location
Combo Platinum Series
Whirlpool & Air Bath II
OC6921TPA-2

List Price: $12250.00


MSRP: $9187.50




Sale Price: Contact Us



Pre-mounted Pump & Blower
Americh Control Pad
Pillow - 12"
Grab Bar (1)- 9"
Chromatherapy
Pre-leveled Bathtub
20-Year Limited Warranty
Whirlpool Features:
Metallic or Color Match Trim
1-HP Syllent Pump with Heated Air
Low Water Level Sensor
Rotary Massage Jets
High Density Insulation
Air Features:
Individual Air jets
Heated back
Variable Speed Blower
Heated Air System
Pulse/Wave Feature
Water Detection Sensor
Automatic Drying Cycle

Electrical: 2 - 20AMP GFCI

Pump & Blower Location
Combo Platinum Series
Whirlpool & Air Bath III
OC6921TPA-3

List Price: $12250.00


MSRP: $9187.50




Sale Price: Contact Us



Pre-mounted Pump & Blower
Americh Control Pad
Pillow - 12"
Grab Bar (1)- 9"
Chromatherapy
Pre-leveled Bathtub
20-Year Limited Warranty
Whirlpool Features:
Metallic or Color Match Trim
1-HP Syllent Pump with Heated Air
Low Water Level Sensor
Rotary Massage Jets
High Density Insulation
Air Features:
Individual Air jets with Built-in Check Valve
Variable Speed Blower
Heated Air System
Pulse/Wave Feature
Water Detection Sensor
Automatic Drying Cycle

Electrical: 2 - 20AMP GFCI

Pump & Blower Location
Oceane Bathtub Options
PVC Drain Color
(Polished Chrome, Polished Nickel, Satin Chrome, Satin Nickel, Oil Rubbed Bronze, Polished Brass, Antique Brass, White, Biscuit, Bone & Black)
Chromatherapy
iBath Sound System
Pillows: 12"

Americh Quality & Design
For over 25 years Americh has combined a comprehensive palette of designs, selective materials, and stringent quality standard to create products that are unmatched in the industry. Only the best materials, such as Lucite® Acrylic, will measure up to Americh standards. Every product is carefully crafted by their skilled artisans and built right here in the United States. Their employees are dedicated to providing customers with the highest quality service and products. At its very heart, Americh is about facilitating the transformation of an ordinary household bathroom into a personal refuge of serenity and rejuvenation.

Choose the Perfect Faucet to Compliment your Americh Bath Tub: Freestanding Tub Faucet →
Americh Links
www.americh.com

Americh Tubs (Main Page)

Warranty

Helpful Bathtub Links

• How to Choose a Freestanding Tub

• Air Tub - Find out how Air Systems Vary

• Tubz.com - Contact us, we are here to help