Alcove Bath Features & Options
Alcove Tub Options
Alcove Systems
General Options
Colors
Colors shown are for reference purposes only. Exact matches are not possible

Standard Colors:


Premium Colors


Nuance


Optional Handle
6" Chrome, White, Biscuit or Bone



Chromatherapy


Cleanly designed and adapted to the style of your bathtub, Chromatherapy creates a soothing or energizing ambiance depending on the color you choose.



Drain Options
D-111 Cable Drain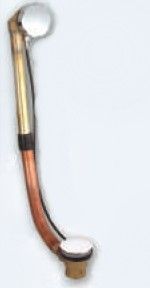 Drain Adapter for Freestanding Baths


Designed to be installed in a 8" - 10" joist space. Install before tile. Can be installed with waterproofing membrane. Use when drain access from below the bath is not possible.

Magnetic Pillows


Black, 12" x 6"
(Not available with Rayola System)

Let the heat liberate you
The experience of relaxation is brought to the next level by the new Rayola option. Unwind from your daily stress with heated back support specifically designed for total relaxation. An innovation that will provide well-being and immediate comfort. Available on most Alcove baths.
Two settings
Integrated into the bathtub, the electronic control allows you to choose between two heat settings, ensuring an experience adapted to your needs.
Energy efficient
With its environmentally-friendly design, the Rayola option consumes only a fraction of energy.

Alcove whirlpool massage is the most vigorous of all of their systems. With a forceful propulsion of water and warm air, it provides a deep tissue massage that oxygenates your muscles, while stimulating your blood flow and circulatory system. The whirlpool jets have two adjustable features, direction and flow. Direction is adjusted by simply moving the nozzle to point in the desired direction. Flow is adjusted by rotating the jet nozzle.

Alcove's whirlpool system increases the massaging effect by drawing air into the jets (VENT URI EFFECT). The air controls are directly installed on the whirlpool system piping.

Some Alcove bathtubs that have back jets option are equipped with an optional diverter valve. This valve redirects flow from the main jets to the back-jets allowing you to balance the massage to the point where you enjoy it the most.

Whirlpool Jets


Standard colors for jets: White, Bone, Biscuit & Chrome
Turbo Jet
• 3 1/2" Diameter
• Adjustable for both direction and flow.
Micro-rotating Jet
• 1 5/8" Diameter
• Back jets
• Power controlled with the diverter

Optional 110v Inline Heater
An in-line heater will keep the temperature within 1 to 2 degrees of what the bath water was poured at for as long as the whirlpool is running. When pump is turned on heater automatically turns on.

Balne-Air system creates the delightful experience of softly floating on a cushion of soothing bubbles for a gentle, relaxing massage. Customize your experience by adjusting the system's intensity. This system propels warm air into the water through injectors located on the bottom and on the backrests of the bathtub. Multiple outlets in each injector create the sensation of an embracing pillow of air. Thanks to non-return valves in each injector, no water enters the approved tubing, preventing the formation of bacteria in the system. Twenty minutes after the massage, a drying cycle activates to clean and dry all conduits.
Balne-Air Jets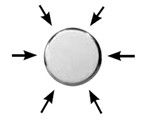 6 Air Streams per jet
9/16" Diameter
Standard Colors: White, Biscuit or Bone Caps with Chrome Trim Ring
Option: Chrome Caps with Chrome Trim Ring (additional charge)

Remote Blower
A cord and blower hose extension are necessary when the blower is located more than 4' from the electronic control.
(Not available on whirlpool combos)
Optional Blower Hose extension 36"
Optional Blower Hose Extension 72"
Optional Blower Hose Extension 96"
Optional Cord Extension 72"
(For Electronic Controls)

The Vibro-Air massage system recreates the stimulating effect of bathing in the oxygenated water of rapids. As a gentle and soothing swirl, the Vibro-Air system maximizes wellness and relaxation. Customize the experience by adjusting the intensity.
The Vibro-Air massage system includes dozens of micro-injectors strategically located along the bottom of the bathtub contour and in the backrest. Warm air is then injected into the water creating thousands of bubbles that completely envelop your body. The configuration of conduits and injectors allows the system to completely drain after use. Twenty minutes after the massage, a drying cycle activates to clean and dry all conduits.
Vibro-Air Jets


5/16" Diameter
Standard Colors: White, Biscuit or Bone
Option: Chrome (additional charge)

Remote Blower
A cord and blower hose extension are necessary when the blower is located more than 4' from the electronic control.
(Not available on whirlpool combos)
Optional Blower Hose extension 36"
Optional Blower Hose Extension 72"
Optional Blower Hose Extension 96"
Optional Cord Extension 72"
(For Electronic Controls)


Alcove Links
Alcove Tubs (Main Page)

Warranty